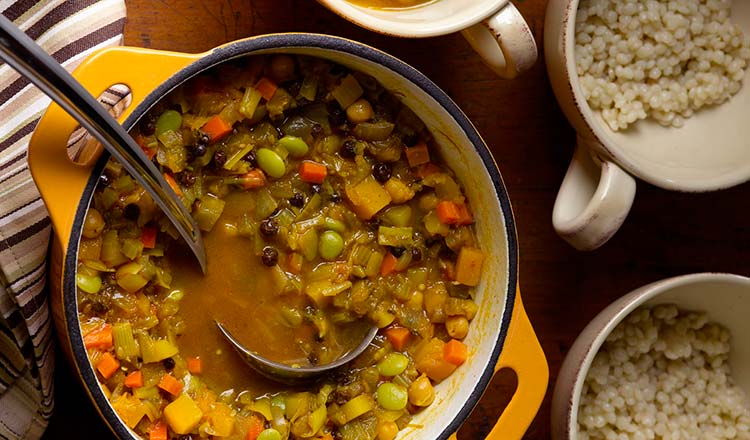 Makes 6 servings
Ingredients
2 tablespoons olive oil 2 tablespoons minced ginger 1 cup diced onion 1 1/2 cups diced leeks (white and light green parts only) 5 garlic cloves, minced 1 1/2 tablespoons curry powder 2 1/2 cups diced pumpkin or butternut squash, peeled and deseeded 1 zucchini, diced 3 1/2 cups vegetable… Ingredients
2 tablespoons olive oil
2 tablespoons minced ginger
1 cup diced onion
1 1/2 cups diced leeks (white and light green parts only)
5 garlic cloves, minced
1 1/2 tablespoons curry powder
2 1/2 cups diced pumpkin or butternut squash, peeled and deseeded
1 zucchini, diced
3 1/2 cups vegetable broth
1 eggplant, peeled and diced
1/2 cup small dice carrot
1/2 cup diced celery
1/2 cup currants
1/4 cup tomato purée
2 cups chickpeas, cooked and rinsed
1 tablespoon lemon juice
1/4 teaspoon kosher salt
2 teaspoons lemon zest
Directions
Heat the oil in a large soup pot over medium heat. Add the ginger, onion, leeks, and garlic and cook, stirring frequently over low heat until the onions are limp and translucent, about 4 to 5 minutes. Add the curry powder and sauté until aromatic, about 1 minute.
Add the pumpkin, zucchini, and just enough of the broth to cover the vegetables, and cook over medium heat for about 10 minutes.
Add the eggplant, carrot, celery, currants, tomato purée, and enough broth to cover the vegetables and simmer until all the vegetables are tender, about 25 minutes.
Stir in the chickpeas. Season with the lemon juice and salt. Cover and cook until heated completely. Garnish with the lemon zest.
Copyright © 2022 The Culinary Institute of America