Host your annual board meetings, conferences, or product launch at CIA. Check out our variety of spaces and programs for your next team building session. Plan your next social event, reception, or gala celebration. Our exceptional resources can provide both the perfect corporate meeting space and lots of unique, food-centric experiences.
Let the planning begin! View our amenities, locations, and spaces below.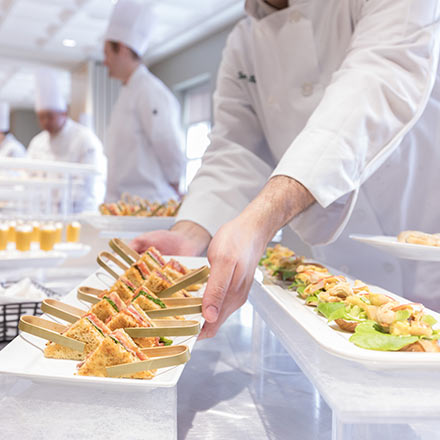 Customizable Catering Packages
Flexible offerings and the ability to provide well-executed global cuisines.
Anything you need to fit your needs and vision. Indoor and outdoor spaces available. Demo theatres, kitchens, conference centers, private dining rooms, and more.
Unique, Food-Centric Experiences
Bond over food! Plan a demo, tasting, or hands-on class with your team. Upgrade your networking time with specialty snacks and coffee.
Inclusive Packages and On-Site Catering
Your package includes space rental, catering, tables, chairs, and linens. You don't have to worry about working with several different vendors.
Upgraded AV Equipment Available
State-of-the-art audio/visual equipment to make your corporate gathering a success. Knowledgeable, on-site technical support team available for troubleshooting.
Choose Your Location and View Spaces: