Multi-day Boot Camps make for a perfect culinary vacation! Each offers a deep dive into a specific topic that will help you gain confidence and skills in the kitchen, all while having fun and creating amazing food.
Learn to cook, bake, think, and taste like a professional chef with help from our expert chef-instructors. Boot Camps vary two–five days in length and are total culinary immersions into a variety of topics.
During our Boot Camps, you'll work in small groups with fellow food lovers to prepare a different menu each day. Chef-instructors will lead you through technical demos and work closely with you as you cook your way through multiple recipes. Class sizes are kept small for a more intimate learning experience.
After all your cooking is done for the day, you'll sit down with your fellow classmates to enjoy the food each group has cooked as you discuss the various techniques and recipes used that day. Each Boot Camp also includes a meal at one of our on-campus restaurants during your Boot Camp experience.



A Sampling of Boot Camps
Best of Boot Camp
Experience highlights from our most popular CIA Boot Camps. On each themed day, you'll learn and practice culinary skills and experience exciting new flavors.
Bistro Boot Camp
Learn how to prepare irresistibly simple, elegant bistro cuisine—soups and stews, rustic omelets, savory tarts, and more—with ease.
Baking Boot Camp
Get your hands dirty and discover the power of flour as you mix, roll, and shape your way through breads, cookies, quick-breads, and pies.
"Coming to CIA and attending a Boot Camp turned out to far exceed my very high expectations. If you love to cook, you need to attend. If you know someone who loves to cook, gift them a Boot Camp experience. Or, better yet, attend with them!"—Peter N., Culinary Boot Camp—Basic Training

"The most rewarding aspect of my Boot Camp experiences was the feeling of advancement and accomplishment from working with such professionals."—Dick Joseph, Boot Camper
What To Expect:
Fun, exhilarating days in the kitchen
A learn-by-doing, hands-on approach
Enjoy delicious food
Learn in state-of-the-art kitchens
Develop skills that last a lifetime
Expert instruction from CIA faculty
A deep connection with other Boot Campers
A life-changing culinary experience
New recipes to add to your arsenal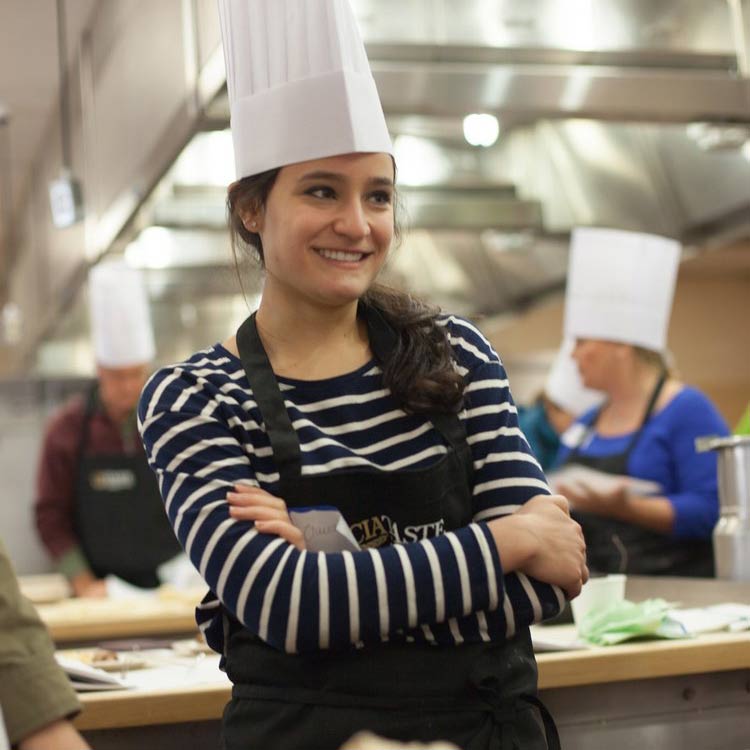 Only Have One Day to Spare?
Feed your passion for all things food and wine at a single-day, hands-on class taught by the CIA's expert faculty. No matter your skill level or interests, we have a class that is perfect for you. Our campuses—New York, California, and Texas—are all located in the heart of vibrant culinary regions, and offer you unique, locally-inspired, and unforgettable experiences.

Learn More
Bring CIA Into Your Kitchen with DISH
Looking for more? Become a DISH member and receive exclusive VIP access to all of CIA's online video demonstrations, library of technique videos, video interviews with world-famous chefs, quintessential recipes, and more.