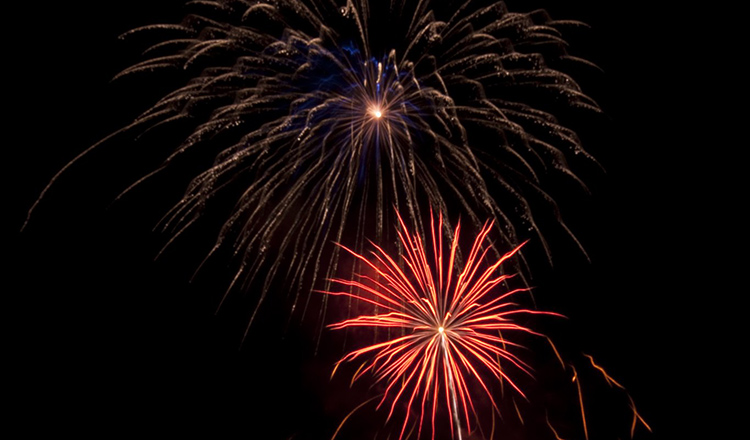 Grilling for a party always sounds fun, but inevitably, it ends up being stressful. Your chicken takes forever to cook, the burgers fall apart on the grill, or you over- (or under) cook those beautiful steaks you splurged on.
This 4thof July, go easy on yourself and plan a menu that is no-stress. One of our best tips for grilling for a group is to rely on already-cooked main dishes. We don't mean convenience items, like frozen hamburgers, but instead high-quality smoked sausages, you-prepped meats and poultry, or even flatbreads that just need a quick reheat on the grill before serving.
Kielbasa is an eternal crowd-pleaser. This Polish sausage is sold smoked, meaning it is already fully cooked. Grilled, it is full of flavor, and can be served sliced with a side of spicy mustard as an appetizer, stuffed into buns with grilled onions, or served alongside an easy summer slaw, like in our current favorite recipe. What's better is that even the inexpensive versions that you can find at any grocery store are incredibly tasty, so if you're not up for a splurge, you've got ton of options.
We also love chicken wings for an easy crowd-pleasing recipe (yes, they can be a main course!). On the grill, they cook super quickly, but for a no-worry option, you can bake the wings ahead of time so that they're fully cooked before you get started. Spread them in a baking dish and bake them at 350°F until they're cooked through, about 20 minutes.
The day of your party, toss them in some sauce (we're into this Honey-Sriracha recipe right now, but you can use barbecue sauce or Buffalo wing sauce for something classic) and toss them on the grill to reheat and char around the edges. You can do the same with pork ribs, ensuring that they are nice and tender before they even hit the grill! Ribs are also great in an Instant Pot under pressure for about 10 minutes. Make sure to add enough water, depending on the size of your model.
Grilled pizza is a tasty main course, but it can be stressful, since you can typically only make a few at a time. To speed up the process, pre-grill your dough bases (yes, even the day ahead!). Cool them and wrap them tightly in plastic wrap. The day of your party, pop them on the grill to preheat both sides, then add your toppings.
We don't recommend pre-cooking steaks or burgers, mostly because their tastiness relies on being less-than cooked through, but chicken and rich pork products can handle the reheat!
Here are some of the recipes we'll be cooking this 4thof July!
Grilled Kielbasa with Corn-Cabbage Slaw
Turkey Sausage and Pepper Sliders
Mexican-Style Street Corn Salad
Cheesecake with Fresh Summer Berries
Chocolate Peanut Butter Icebox Cake