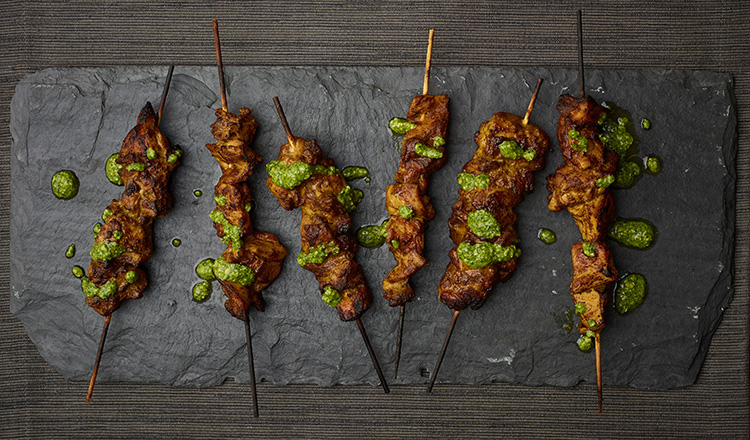 Yields 4 to 6 portions
Ingredients
2 lb skinless, boneless chicken thighs, cut into 1-inch cubes Salt, as needed Ground black pepper, as needed Juice of 1 lemon 2 tablespoons ghee 1 tablespoon paprika 1 1/2 teaspoons ground Korean chili pepper 2 teaspoons ground cumin 1 teaspoon ground ginger 2 teaspoon ground turmeric 2… Ingredients
2 lb skinless, boneless chicken thighs, cut into 1-inch cubes
Salt, as needed
Ground black pepper, as needed
Juice of 1 lemon
2 tablespoons ghee
1 tablespoon paprika
1 1/2 teaspoons ground Korean chili pepper
2 teaspoons ground cumin
1 teaspoon ground ginger
2 teaspoon ground turmeric
2 teaspoons ground coriander
1/2 cup diced onions
2 cloves garlic, sliced
1 cup Greek yogurt
8 flat metal skewers (or 8 wooden skewers, soaked in water for at least 30 minutes)
Directions
Season the chicken with salt, pepper, and lemon juice.
In a saucepan or similar pan, heat the ghee. Add the paprika, chili pepper, cumin, ginger, turmeric, and coriander and cook until aromatic, about 1 minute.
Add the onions and cook over medium heat until the onions are very tender, about 10 minutes. Add the garlic and continue to cook until fragrant, about 1 minute.
Purée the onion-spice mix in a blender, adding small amounts of yogurt as needed to facilitate the blending.
Combine the spice purée with the diced chicken, mix well, and add the remainder of the yogurt. Allow to marinate for about 1 hour.
Skewer the chicken pieces.
Prepare a grill for medium-high cooking. Grill the chicken until cooked through and well charred, 5 to 6 minutes.
Serve the skewers with cilantro-cashew chutney.
Copyright © 2022 The Culinary Institute of America