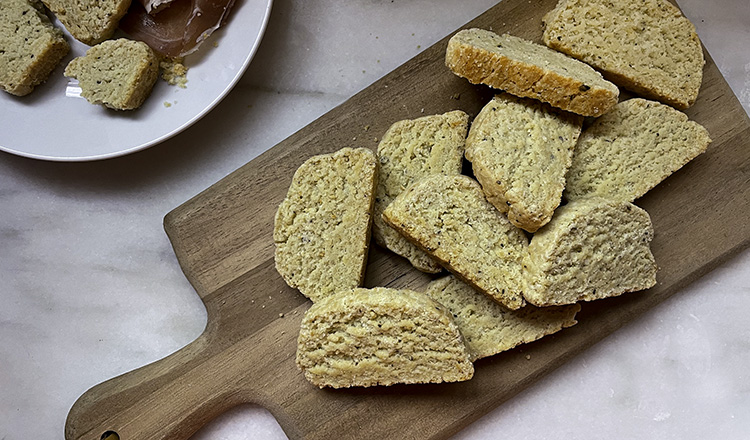 Makes 40 biscotti Makes 40 biscotti When we think of "biscotti," we usually think about little biscuits or cookies, sweet and studded with fruit or nuts. But the name actually refers to the method in which they are baked—twice—so that they can be stored for long periods of time at room temperature. There are many… Makes 40 biscotti
Makes 40 biscotti
When we think of "biscotti," we usually think about little biscuits or cookies, sweet and studded with fruit or nuts. But the name actually refers to the method in which they are baked—twice—so that they can be stored for long periods of time at room temperature. There are many versions of biscotti, both sweet and savory. These tasty little biscotti are great with sliced prosciutto, or just by themselves. This recipe can be easily halved for a smaller batch.
Ingredients
3 cups all-purpose flour
2 cups grated Parmigiano-Reggiano
1 cup cold unsalted butter, cubed
2 teaspoons ground black pepper
2 large eggs
Directions
In the bowl of an electric mixer fitted with the paddle attachment, mix the flour and cheese.
Add the butter and mix on medium speed until crumbly and the butter is evenly distributed. Add the pepper. Add the eggs and mix on medium speed until it just comes together. If the mixture is still dry, add water 1 tablespoon at a time until a very rough dough forms.
Form the dough into logs 12 inches long by 2 inches in diameter, wrap in plastic wrap, and refrigerate for at least 20 minutes, or until firm.
Preheat the oven to 350°F.
Unwrap the dough logs and transfer to a parchment paper-lined baking sheet. Bake until the dough is matte and lightly golden, about 30 minutes.
Remove from the oven and set aside to cool slightly. Use a serrated knife to slice the logs crosswise into 1/4-inch-thick slices and return the slices to the baking sheet, using two if needed. Bake until the biscotti is fully cooked through and the edges are golden brown, about 22 minutes.
Copyright © 2022 The Culinary Institute of America