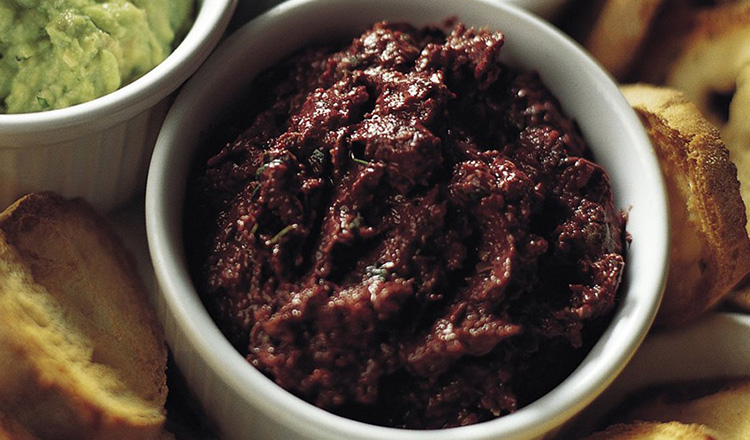 Makes 6 servings
Ingredients
2 cups pitted kalamata or other cured black olives 3 anchovy fillets, drained 2 tablespoons capers, rinsed 2 garlic cloves, minced 2 tablespoons lemon juice 1/4 cup extra-virgin olive oil 1 tablespoon chopped parsley, rosemary, or basil
Directions
Put the olives, anchovy fillets, capers, and garlic in the… Ingredients
2 cups pitted kalamata or other cured black olives
3 anchovy fillets, drained
2 tablespoons capers, rinsed
2 garlic cloves, minced
2 tablespoons lemon juice
1/4 cup extra-virgin olive oil
1 tablespoon chopped parsley, rosemary, or basil
Directions
Put the olives, anchovy fillets, capers, and garlic in the bowl of a food processor fitted with a steel blade. Pulse the machine on and off in short blasts until a coarse paste forms. There should still be distinct pieces of olive in the mixture.
With the machine running, drizzle in the olive oil until the paste is smooth enough to spread, though it should be slightly chunky.
Transfer the mixture to a bowl and stir in the lemon juice and fresh herbs. Serve at room temperature.
Copyright © 2021 The Culinary Institute of America