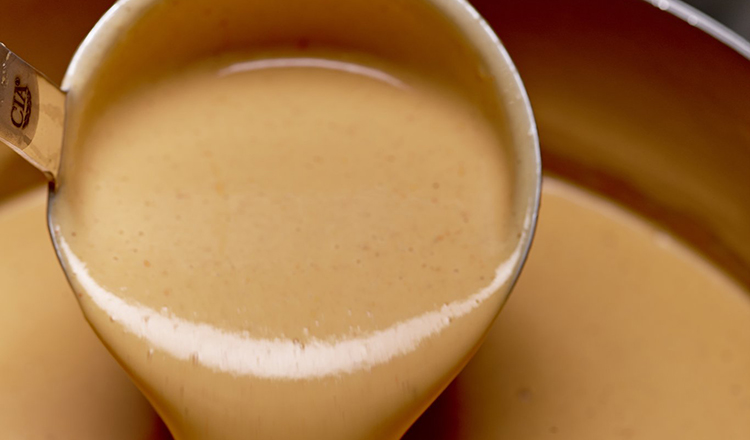 Makes 8 servings
Ingredients
2 tablespoon olive oil 1 1/2 cups chopped yellow onion 1 tablespoon chopped garlic 1 quart vegetable stock One 28-oz can plum tomatoes 1 cup heavy cream Kosher salt, as needed Ground white pepper, as needed Basil chiffonade, as needed
Directions
Heat the oil in a soup pot… Makes 8 servings
Chef's Note:
The consistency of the soup may be adjusted to suit your taste. Leave some chunks of tomato, if desired, or continue to purée until the soup is completely smooth.
Ingredients
2 tablespoon olive oil
1 1/2 cups chopped yellow onion
1 tablespoon chopped garlic
1 quart vegetable stock
One 28-oz can plum tomatoes
1 cup heavy cream
Kosher salt, as needed
Ground white pepper, as needed
Basil chiffonade, as needed
Directions
Heat the oil in a soup pot over medium heat. Add the onion and garlic and cook until the onions are translucent, 5 to 7 minutes.
Add the stock, chopped basil, and tomatoes, reserving a little bit of the juice from the tomatoes. Simmer until the onions and tomatoes are completely tender, about 20 minutes.
Meanwhile, in a small saucepan over medium-high heat, bring the cream to a boil. Reduce the heat to medium and simmer until the cream has reduced by half, about 20 minutes. Set aside.
Purée the soup using an immersion blender, or in batches using a blender or food processor.
Strain through a fine mesh sieve.
Return the puréed soup to the pot, if necessary, bring to a gentle simmer over medium-low heat, and stir in the reduced cream. If necessary, thin the soup with the reserved tomato juice. Season with salt and white pepper. Serve immediately, garnished with the basil.
Copyright © 2021 The Culinary Institute of America