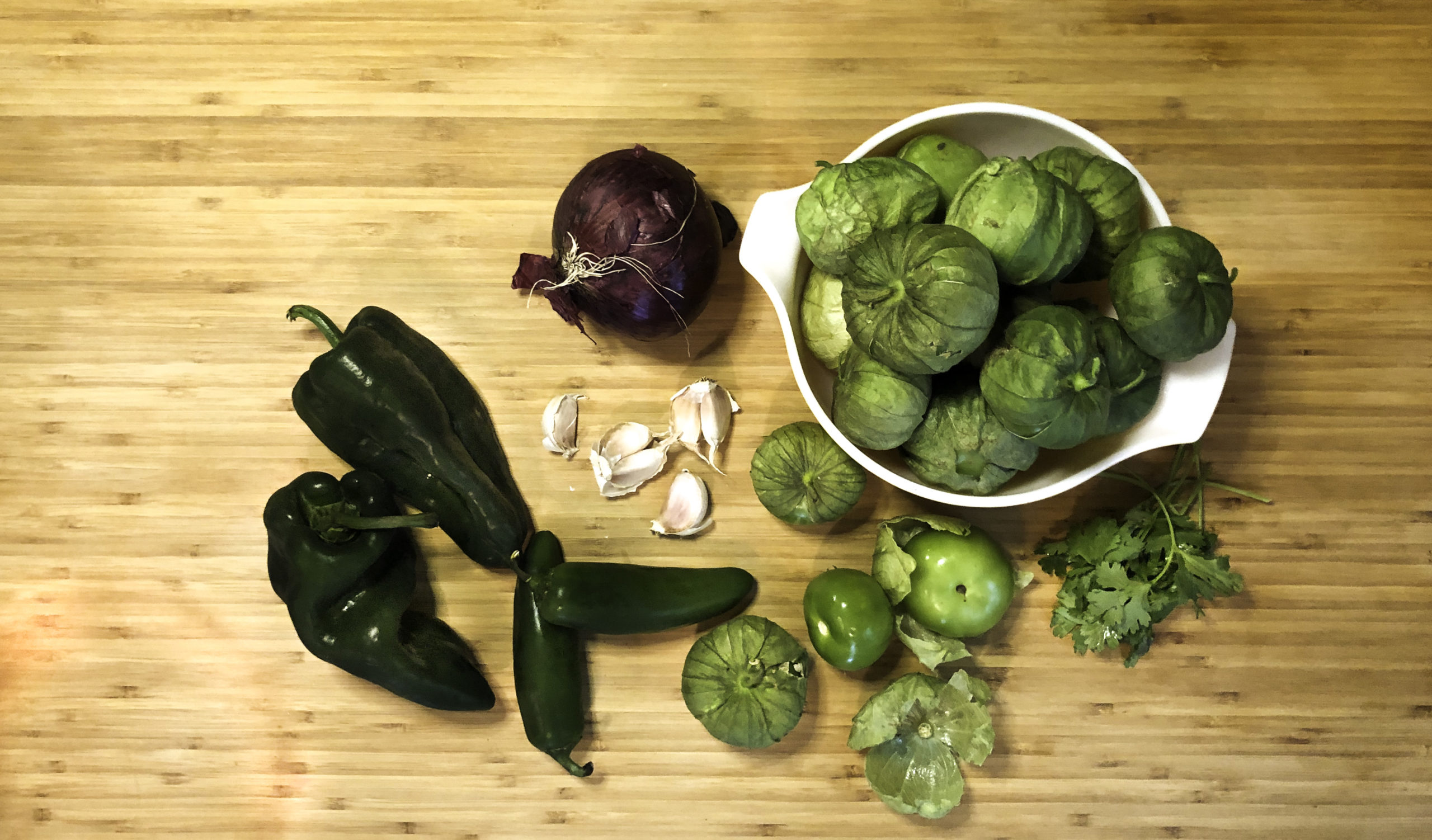 I live in a city, in a pretty small house with an especially small kitchen. When I fantasize about the next house I'll live in, a big kitchen is key, of course, but the thing I romanticize the most (well, other than a pool) is the space for a big chest freezer. Dreaming of garage… I live in a city, in a pretty small house with an especially small kitchen. When I fantasize about the next house I'll live in, a big kitchen is key, of course, but the thing I romanticize the most (well, other than a pool) is the space for a big chest freezer. Dreaming of garage space is how I fall asleep most nights. There is nothing more satisfying to me than putting away bits and bobs of ingredients or prepared foods that I can pull out months down the road to create something entirely new. I'm the person who freezes 2 tablespoons of leftover
anything
delicious—beer, chimichurri, apple butter. It's not so much a waste-not-want-not attitude, though, I mean, waste not want not, but more about how happy future-me will be when she finds something to put a lackluster dinner over the top. It always gets used, one way or another. I also am very much a person who gets cranky about cooking because I
have
to, rather than cooking because I
want
to. I love to cook, but I don't always want to, so having a freezer stash simplifies my life on days when I need a break. Okay, so now that you know about my favorite hobby, I'll get to the point, which is that this week I made a big batch of my family's most-used salsa. It's a cooked salsa verde, made with tomatillos, poblanos, jalapenos, red onion, garlic, cilantro, and lime juice. It's very hands off, requiring a short roast in the oven (grill works, too) and a trip to the blender. We use it for everything, from tacos to enchiladas, an easy sauce for grilled fish, a flavoring base for soup, or, obviously, as a snack. It's as spicy as you want it to be and very versatile. I like to freeze this salsa in pretty small portions, roughly 1/2 cup at a time, because I find that you don't need much more than that for lots of uses, and it's easy to grab a few portions if I need to. Like most things of a saucy-nature, I freeze my salsa in a silicone muffin tin,
like this one
, and then pop them out and keep them in a zip top bag. This batch makes about 7 cups, but can be halved or doubled to suit your needs. Use these quantities as a baseline, but play around until
you
love it. Garlic, cilantro, and lime are particularly adjustable to taste. Here's what you'll need: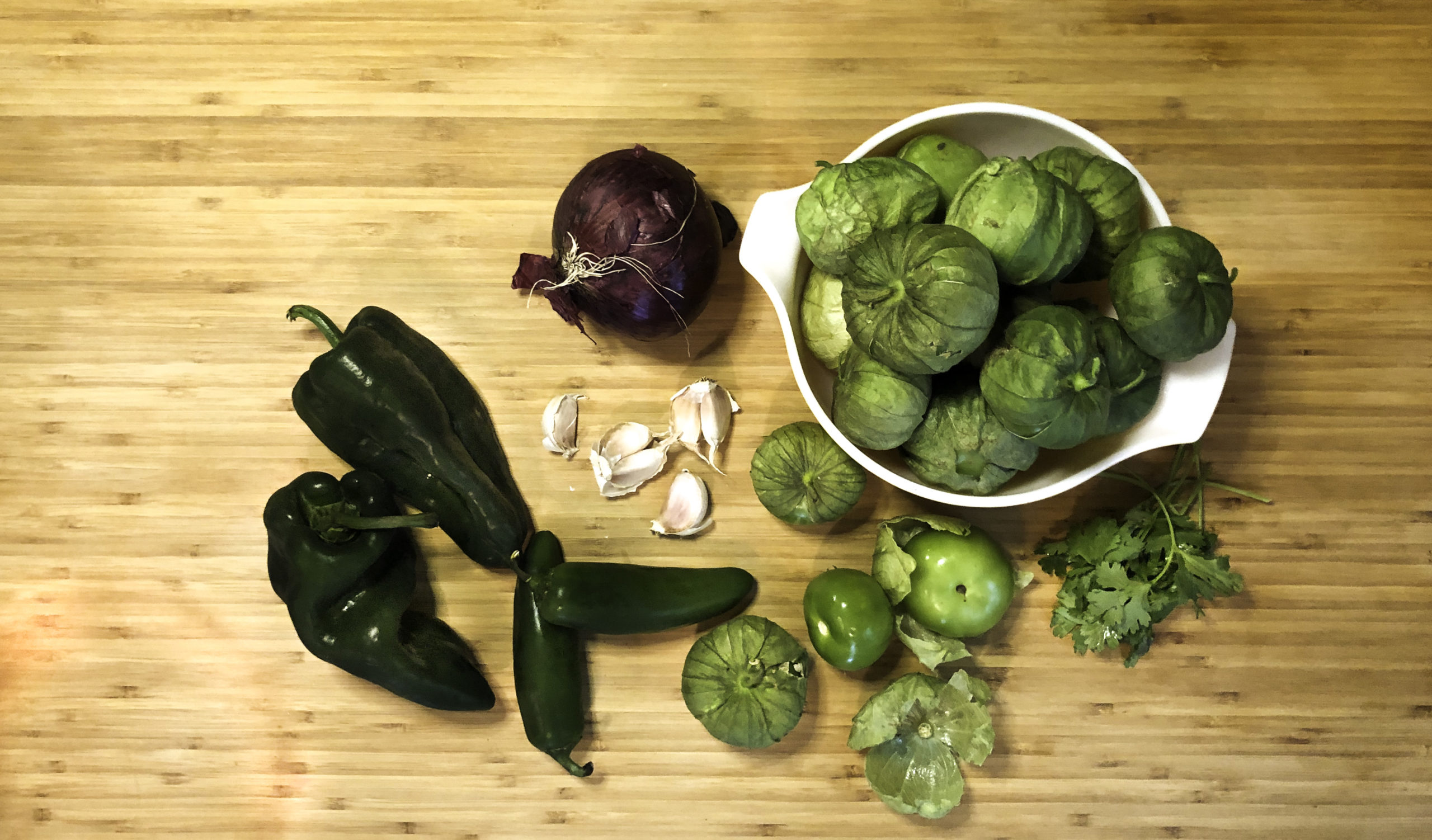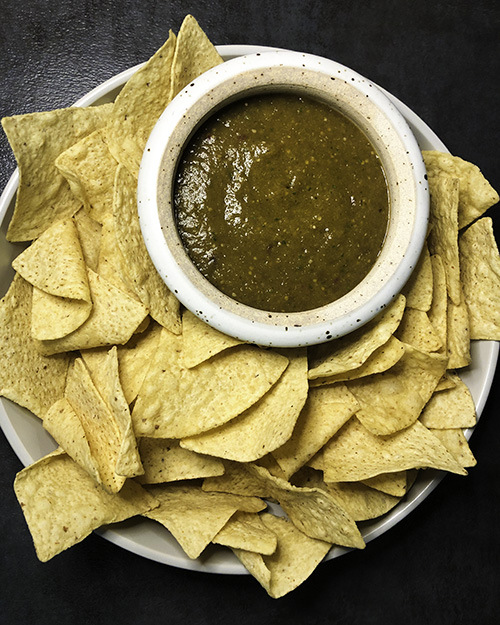 I used to cook the ingredients under the broiler until they were pretty well charred. I've grown not to love the bitterness of the charred vegetables in this salsa, so now I do a bit of a lighter roast. But if a bit of char is your thing, go for it. The grill will produce a similar flavor.
Mix this salsa with something creamy, like sour cream or mashed avocado, for a rich sauce. I will often use the salsa inside enchiladas, and then use a creamy version on top.
Use this same formula for a red tomato salsa. Substitute equal part tomatoes for the tomatillos.
Check out this uncooked tomatillo salsa for a simple and bright fresh flavor.
Ingredients
3 1/2 lb tomatillos, husks removed, rinsed – this might be painfully obvious to everyone but me, but I learned the hard way awhile ago that tomatillo husks should not go in the food processor.
2 poblano peppers, halved and seeded
2 jalapeños, halved and seeded – use as many of these as you like, and keep the seeds if you like the spice
1 red onion, peeled and roughly cut into chunks -- white or yellow onion would be fine here, too
6 cloves garlic, separated but not peeled
1/2 cup roughly chopped cilantro
Juice from 1 lime, plus more as needed
Kosher salt, to taste
Directions
Preheat the oven to 425°F.
On a baking sheet, place all of the tomatillos in one layer. On a second baking sheet, arrange the poblanos and jalapenos, cut side down. Gently press on the peppers until they are slightly flattened. Scatter the onions and garlic around the peppers.
Roast the tomatillos and the other vegetables until they are softened and browned, about 30 minutes (the tomatillos may only be browned on the bottom. That's okay). If you prefer a slightly more charred flavor, broil the ingredients for about 5 more minutes, until they are lightly charred.
Remove from the oven and set aside to cool. Peel the garlic cloves and transfer all of the cooked ingredients, plus the cilantro and lime juice, to a blender, working in batches, if needed.
Blend until smooth. Taste and season with salt or more lime juice, if needed.
Copyright © 2022 The Culinary Institute of America