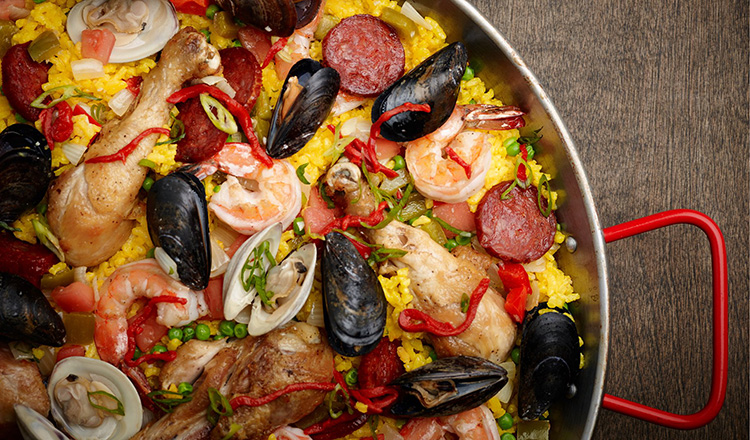 Makes 5 servings
Ingredients
10 shrimp (16/20 count), peeled and deveined, shells reserved 1/4 cup extra-virgin olive oil 1 teaspoon crushed saffron threads 4 1/2 cups Chicken Broth, plus more as needed 3 chicken legs, separated Salt, as needed Freshly ground black pepper, as needed 1 cup large-dice onion 1 cup large-dice red bell… Ingredients
10 shrimp (16/20 count), peeled and deveined, shells reserved
1/4 cup extra-virgin olive oil
1 teaspoon crushed saffron threads
4 1/2 cups Chicken Broth, plus more as needed
3 chicken legs, separated
Salt, as needed
Freshly ground black pepper, as needed
1 cup large-dice onion
1 cup large-dice red bell peppers
1 cup large-dice green bell peppers
2 tablespoons minced garlic
3 oz dry Spanish chorizo, sliced 1/4 inch thick
1 1/2 cups rice
1 cup peeled, seeded, large-dice tomatoes
10 littleneck clams, thoroughly scrubbed
12 oz mussels, scrubbed and debearded
1 cup green peas, cooked
1/4 cup thinly sliced green onions
2 piquillo chiles, julienned
Directions
In a medium pot, sauté the shrimp shells in 2 tablespoons of the oil until they turn pink. Add the saffron and stock and simmer, covered, for 30 minutes. Strain the liquid into a pot and keep hot.
Season the chicken with salt and pepper. Add 1 tablespoon of the oil to a paella pan over medium heat and heat until just smoking. Add the chicken and brown on all sides. Remove the chicken from the pan and reserve.
Add the remaining 1 tablespoon oil to the pan. Add the onion and bell peppers and sauté over medium heat for 2 to 3 minutes. Add the garlic, and sauté for 1 minute more. Add the chorizo and rice, stirring to coat the rice with the oil.
Add the tomatoes, the reserved hot stock, the browned chicken, and clams. Cover, reduce the heat, and cook for 5 minutes, or until all the clams have opened. Do not stir the rice.
Add the mussels and shrimp. Cover and cook for 5 to 7 minutes, adding more stock during cooking, if necessary, so that the rice does not dry out.
During the last minute of cooking, add the peas. Serve immediately, garnished with the green onions and piquillo chiles.
Copyright © 2021 The Culinary Institute of America