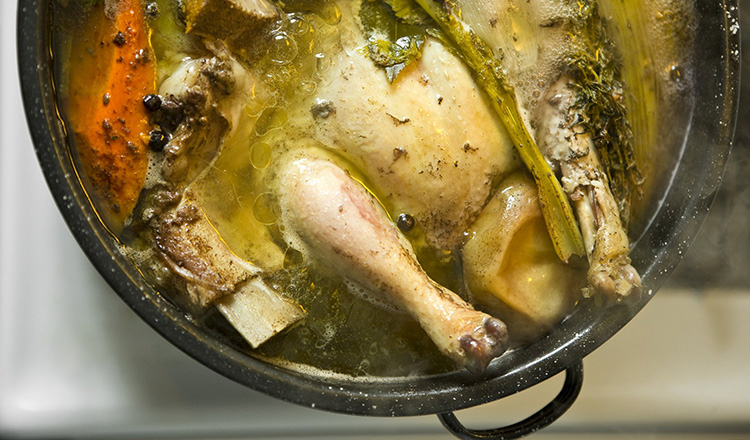 Makes 2 1/2 quarts broth
Ingredients
4 lb stewing hen parts, including backs and necks 3 qt cold water, plus more as needed 1 large yellow onion, cut into medium dice 1 celery stalk, cut into medium dice 1 carrot, cut into medium dice 5 black peppercorns, cracked 4 parsley stems 1 sprig thyme… Ingredients
4 lb stewing hen parts, including backs and necks
3 qt cold water, plus more as needed
1 large yellow onion, cut into medium dice
1 celery stalk, cut into medium dice
1 carrot, cut into medium dice
5 black peppercorns, cracked
4 parsley stems
1 sprig thyme or ½ teaspoon dried thyme
1 bay leaf
11/2 tsp Kosher salt, plus more as needed
Directions
Put the chicken in a stockpot and cover with 3 quarts of water, or more if necessary, to cover the chicken by at least 2 inches. Bring to a boil over medium heat, and skim off any foam that rises to the surface.

Reduce the heat to establish a slow simmer. Cover partially and simmer for 2 hours, skimming the foam from the surface as necessary.

Add the onion, celery, carrot, black peppercorns, parsley, thyme, bay leaf, and salt. Continue to simmer, skimming as necessary, until the broth is flavorful, about 1 hour more. Season with additional salt, as needed.

Remove the meaty parts of the chicken and save for another use. Strain the broth and discard the solids. Skim the fat from the surface, or cool down the broth in an ice bath, chill, and then lift away the hardened fat. The broth is ready to use, or it may be cooled and stored in the refrigerator for up to 5 days, or in the freezer for up to 3 months.
Copyright © 2021 The Culinary Institute of America