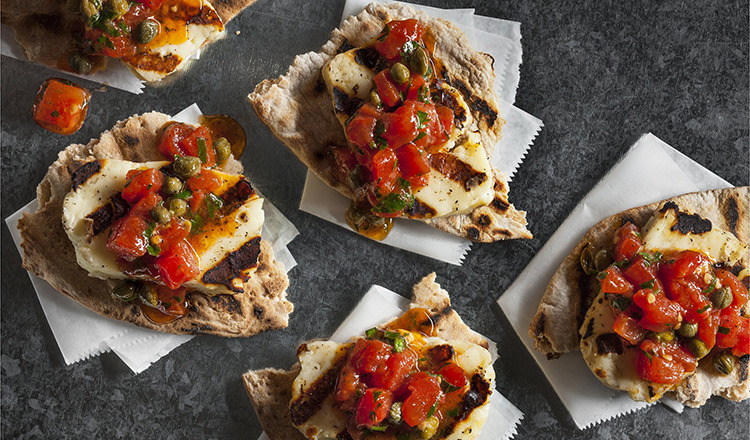 Haloumi is a semi-firm cheese, typically made from a mix of cow's and goat's milks. The cheese has a high melting point, which means it can withstand lots of heat before it begins to break down and melt. That means haloumi can be cooked directly on a grill or in a pan for a brown,… Haloumi is a semi-firm cheese, typically made from a mix of cow's and goat's milks. The cheese has a high melting point, which means it can withstand lots of heat before it begins to break down and melt. That means haloumi can be cooked directly on a grill or in a pan for a brown, crisp exterior. Makes 4 servings
Ingredients
1 1/2 lb haloumi cheese
Kosher salt, as needed
Freshly ground black pepper, as needed
1/4 cup extra-virgin olive oil, divided use
1 tablespoon capers
2 tomatoes (about 1/2 lb), peeled, cut into small dice
2 tablespoons brandy or cognac
1 tablespoon lemon juice
1 tablespoon chopped flat-leaf parsley
Directions
Cut the cheese into wedges about 3-in long and 1/2- to 3/4-in thick. Season the cheese with salt and pepper, toss in 2 tablespoons of the olive oil, and cook on a very hot grill until slightly charred on both sides, 30 seconds to 1 minute per side. Arrange on a plate.
In a skillet over medium heat, sweat the capers and tomatoes in the remaining olive oil until the tomato begins to get pulpy, about 5 minutes.
Add brandy and lemon juice and cook until the moisture is evaporated. Add the chopped parsley and adjust seasoning with salt and pepper.
Pour the tomato mix over the grilled cheese and serve immediately.
Copyright © 2022 The Culinary Institute of America