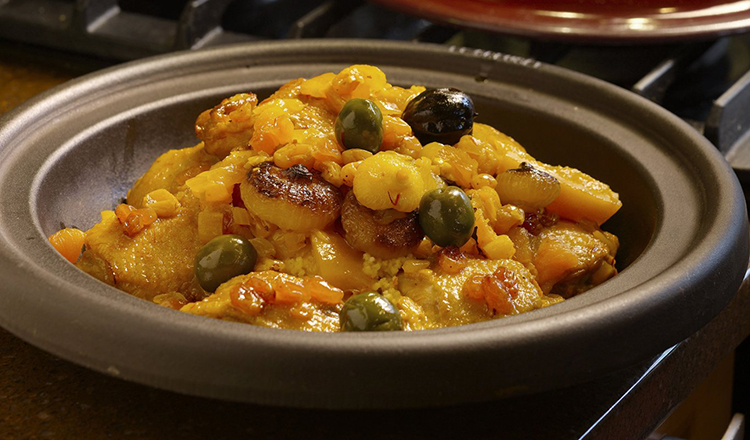 Makes 4 to 6 servings
Ingredients
12 chicken thighs Kosher salt, to taste Freshly ground black pepper, to taste 3 tablespoons extra-virgin olive oil 12 cipollini onions, blanched for 10 seconds and peeled 3 tablespoons peeled, sliced ginger 6 garlic cloves, thinly sliced 2 teaspoons toasted cumin seeds, ground 1/8 teaspoon crushed saffron threads… Makes 4 to 6 servings Chef's Notes: If dried limes are unavailable, preserved limes are a good substitute. You can braise this stew on the stovetop over medium heat as described above, or you can cook it in a 350° to 375°F oven in a large, oven-safe, heavy-bottomed pot or enameled casserole. Either way, a constant simmer must be maintained to achieve a proper braise.
Ingredients
12 chicken thighs
Kosher salt, to taste
Freshly ground black pepper, to taste
3 tablespoons extra-virgin olive oil
12 cipollini onions, blanched for 10 seconds and peeled
3 tablespoons peeled, sliced ginger
6 garlic cloves, thinly sliced
2 teaspoons toasted cumin seeds, ground
1/8 teaspoon crushed saffron threads
8 preserved lemon wedges, pith removed and rind thinly sliced
20 Picholine or pitted green olives
1 1/2 cups golden raisins
8 oz dried apricots, diced
2 dried limes, soaked in hot water for 1 hour (see note)
6 1/2 cups Chicken Broth, hot
1/4 cup chopped flat-leaf parsley
1/4 cup chopped cilantro
3 cups cooked couscous
Directions
Season the chicken thighs with salt and pepper. In a large, oven-safe sauté pan over high heat, heat the olive oil, add the chicken thighs, skin side down, and cook until brown on each side, about 10 minutes. Work in batches when cooking the chicken thighs to avoid overcrowding the pan, which will cause them to steam instead of brown. Add the onions and cook until browned, about 4 minutes. Drain the grease from the pan. If working in batches, return all the chicken to the pan.
Add the ginger and garlic and cook until tender, about 2 minutes. Add the cumin, saffron, preserved lemons, olives, raisins, apricots, and dried limes. Stir in 1 cup of the broth to help combine all the ingredients. Add the remaining 5 1/2 cups broth and cover the pan. Reduce the heat to medium to establish a simmer and begin the braising process (see note). Braise until the chicken is fork-tender, about 50 minutes.
Continue cooking until the broth has reduced to a consistency thick enough to coat the back of a wooden spoon. If necessary, adjust the seasoning with salt and pepper. Garnish with the parsley and cilantro and serve with the couscous.
Copyright © 2022 The Culinary Institute of America