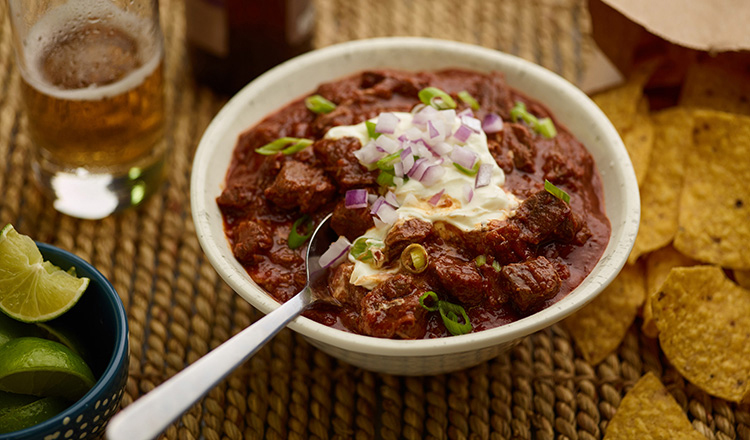 Makes 6 servings
Ingredients
3 lb boneless beef shoulder 1 tablespoon whole cumin seeds, or 2 teaspoons ground cumin 1 tablespoon whole coriander seeds, or 2 teaspoon ground coriander 1 tablespoon sweet chili powder 1 tablespoon medium hot chili powder 1 tablespoon smoked Spanish paprika 1 teaspoon dried oregano 1/2 teaspoon ground cinnamon 1/4… Ingredients
3 lb boneless beef shoulder
1 tablespoon whole cumin seeds, or 2 teaspoons ground cumin
1 tablespoon whole coriander seeds, or 2 teaspoon ground coriander
1 tablespoon sweet chili powder
1 tablespoon medium hot chili powder
1 tablespoon smoked Spanish paprika
1 teaspoon dried oregano
1/2 teaspoon ground cinnamon
1/4 teaspoon cayenne pepper
One 14.5-oz can whole plum tomatoes
2 cups chopped onion
8 garlic cloves, roughly chopped
3 canned chipotles in adobo sauce, chopped
1 jalapeño, seeds and veins removed, roughly chopped
2 tablespoons tomato paste
1 teaspoon sugar
3 tablespoons vegetable, corn, or canola oil
12 oz beer, like a pale ale
1 1/2 teaspoons kosher salt
1 tablespoon fresh lime juice
Ingredients
1/4 cup shredded Cheddar cheese, plus more as needed
1/4 cup sour cream, plus more as needed
Chopped scallions, as needed
Directions
Place the meat in the freezer for 3 hours. When it is partially frozen, cut the meat into 1/2-inch cubes or smaller. This will make the process easier, and the cuts will be more accurate.
If using whole spices, grind the cumin and coriander to a powder using a mortar and pestle. A spice grinder can also be used. In a bowl, combine the ground cumin and coriander with the sweet and medium chili powders, paprika, oregano, cinnamon, and cayenne.
In a food processor, purée the tomatoes, onion, garlic, chipotle peppers, jalapeño, tomato paste, and sugar until smooth. Reserve until needed.
Heat 1½ tablespoons of oil in each of 2 large heavy-bottomed or cast-iron pans. If you only have one pan, you will need to work in small batches, deglazing the pan with some water in between batches; do not overload the pans with meat or it will boil and turn gray.
Add the meat to the pans and cook until browned on all sides, about 10 minutes. When the meat is brown, transfer it to a 2- or 3-quart pot over medium heat.
Add the ground spice mixture to the pot to quickly toast the spices in the remaining fat with the meat.
Deglaze the pan with the beer. Stir to pick up any caramelized bits on the bottom of the pan, add the puréed tomato mixture to the pot, and bring to a boil over high heat. Reduce the heat to establish a gentle simmer, then add the salt. Continue simmering until the meat is tender, 2 to 2 1/2 hours. If the chili reduces down and becomes too thick during cooking, add some water to adjust the consistency; if there is not enough moisture, the meat will not cook properly.
When the meat is tender, add the lime juice.
Serve the chili in bowls. Top each portion with cheese and sour cream, then sprinkle with scallions.
Copyright © 2022 The Culinary Institute of America