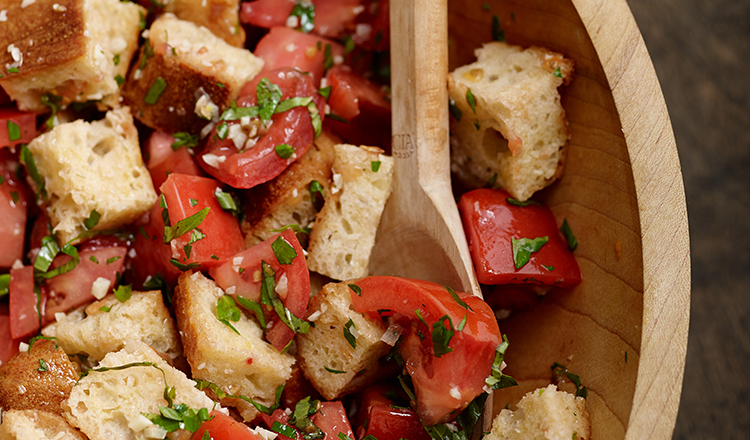 Makes 8 servings
Ingredients
1 baguette, 24 inches long, preferably 2 days old 1 tablespoon unsalted butter 1/2 cup plus 3 tablespoons extra-virgin olive oil 1/4 cup chopped garlic 2 pounds medium tomatoes 1/2 cup white balsamic vinegar 2 teaspoons salt, plus more as needed 1 teaspoon ground black pepper, plus more as needed… Ingredients
1 baguette, 24 inches long, preferably 2 days old
1 tablespoon unsalted butter
1/2 cup plus 3 tablespoons extra-virgin olive oil
1/4 cup chopped garlic
2 pounds medium tomatoes
1/2 cup white balsamic vinegar
2 teaspoons salt, plus more as needed
1 teaspoon ground black pepper, plus more as needed
1 bunch basil
1/2 cup roughly chopped parsley
Directions
Cut the baguette into 1-inch cubes. Toast in 350°F oven for 1 to 2 minutes or until crisp and dry, stirring occasionally if necessary.
Place the butter and 2 tablespoons of the olive oil into a 10-inch sauté pan over medium low heat. Allow the butter to melt and then add the garlic. Sauté the garlic until it is translucent, but not brown, 2 to 3 minutes. Toss the garlic mixture with the diced bread.
Cut the tomatoes in 1/2-inch pieces and place in a large bowl. Add the vinegar, remaining olive oil, salt, and pepper.
Layer one-quarter of the basil leaves on top of each other and roll into a tight bunch. Thinly slice the bunch of leaves crosswise to create long strips of basil approximately 1/8-inch thick.
Just before serving, toss the bread, basil, and parsley with the tomatoes. Adjust the seasoning with additional salt and pepper if necessary.
Copyright © 2022 The Culinary Institute of America