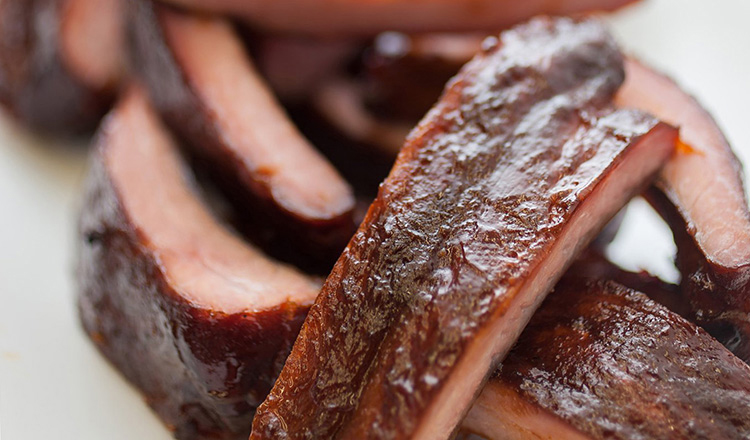 Makes 6 servings Spareribs
Ingredients
6 to 8 lb pork spareribs, baby back or St. Louis–style cut 1 cup prepared yellow mustard 1/2 cup packed brown sugar 1/4 cup onion powder 1/4 cup dry mustard powder 3 tablespoons plus 1/2 teaspoon garlic powder 2 tablespoons kosher salt 1 tablespoon smoked Spanish paprika 2 teaspoons… Makes 6 servings
Spareribs
Mist
Ingredients
6 to 8 lb pork spareribs, baby back or St. Louis–style cut
1 cup prepared yellow mustard
1/2 cup packed brown sugar
1/4 cup onion powder
1/4 cup dry mustard powder
3 tablespoons plus 1/2 teaspoon garlic powder
2 tablespoons kosher salt
1 tablespoon smoked Spanish paprika
2 teaspoons ground cinnamon
1 teaspoon dried thyme
1/2 teaspoon cayenne pepper
Ingredients
1 1/2 cups apple juice
1/2 cup cider vinegar
2 tablespoons Worcestershire sauce
1 qt prepared barbecue sauce
Directions
Rinse the ribs under cool running water and dry them thoroughly. Trim any excess fat from the meat side of the ribs. On the bone side, grasp the silverskin from the inside of the ribs and pull it off. Slather all sides of the ribs with the prepared mustard; this will help the dry rub stick better.
To make the dry rub: Combine the sugar, onion powder, mustard powder, garlic powder, salt, paprika, cinnamon, thyme, and cayenne in a bowl. Rub the mixture evenly onto all sides of the ribs. Generally 1/2 ounce of rub is adequate per 1 pound of ribs. Reserve any extra dry rub.
Allow the ribs to sit at room temperature for at least 30 minutes, or wrap the ribs in plastic wrap and refrigerate overnight. Overnight is best, but then the ribs will need to be removed from the refrigerator and allowed to warm slightly at room temperature before placing them in the cooker. If the ribs are wet after refrigeration, they can be sprinkled with a little of the reserved dry rub.
To make the mist: Combine the apple juice, vinegar, and Worcestershire sauce in a food-grade spray bottle. Alternatively, the mist can be brushed on with a brush or mop. Reserve.
Prepare the smoker or grill for barbecuing: Bring the temperature to 225° to 250°F, fill the water pan, and develop a light smoke. It's very important to maintain the proper temperature, so keep the smoker temperature in the 225° to 250°F range with a small amount of light smoke escaping. Place the pork in the smoking unit. This will cool the unit off, so it may require some adjustments to get the temperature to settle back in the 225° to 250°F range.
Try to avoid unnecessarily opening the smoker; it's best to try to go without opening it for an hour or so at a time. Each time you open the cooking unit heat is lost and the cooking time is extended. When it is necessary to open the smoker, try to do everything at once: add fuel, add smoking material, and check the water pan. (Keeping the water pan from drying out is vital to maintaining temperature and the proper moist cooking environment.) When you have to open the smoker, also take advantage of the opportunity to spray the pork with the mist mixture. This will keep the surface of the pork moist and provide flavor during the lengthy cooking process.
When the meat has started to pull down on the bone about ¼ inch, brush the ribs with the barbecue sauce, and continue to cook until the ribs are fork-tender, about 30 minutes more. The total cooking time will be 3 to 5 hours. Remove the ribs from the smoker, and allow to rest for 10 minutes before slicing into individual ribs.
Copyright © 2022 The Culinary Institute of America