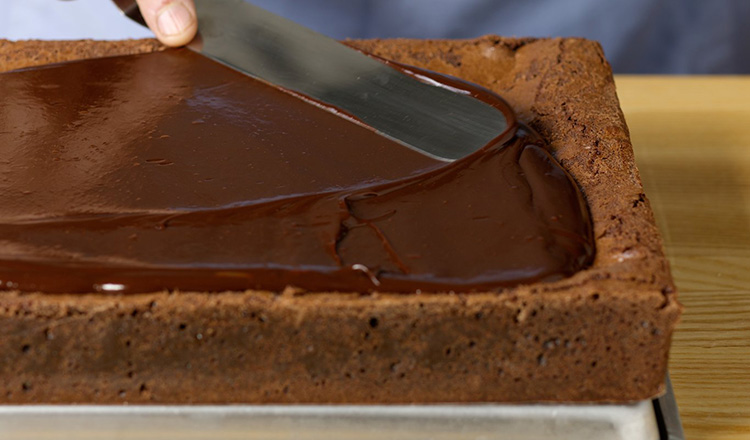 Bar cookies are baked in one large pan and portioned after baking. This term is used for traditional cookies like brownies and blondies, but baking cookies in this manner also creates the opportunity to layer flavors and textures, resulting in new varieties of delicious cookies.
Just as with drop cookies, evenness is an important element in the preparation of bar cookies. Make sure that the dough or batter is evenly spread in the baking pan. This will ensure even baking and texture and a uniform final product. If the edges and corners of the pan are thinner than the center, they can easily overbake and dry out. Use a rubber or offset spatula to spread the layers smoothly and evenly across the pan.
Baking bar cookies can involve partial baking, separately baked or cooked elements, and/or baking the entire cookie as a whole. If an item requires partial baking (such as the base crust layer), be sure to follow instructions accurately. Do not underbake, as the cookie may not hold up the other layers and will crumble and be difficult to cut.
If the cookie has multiple layers, it may be necessary to chill one layer before adding the next. If the bars are to be finished with a glaze, ganache, or icing, be sure to cool the bar completely before applying the topping so that it does not thin or melt on the surface of the bar.
To ensure clean cuts and nicely finished cookies, make sure the bar has cooled completely and any topping has set. Chilling the bar can ensure this and make it easier to cut the cookies, especially if the knife used to cut is dipped in warm water prior to cutting. Wipe the blade of the knife clean between each cut.
Choosing Pans for Bar Cookies
Some batters baked as bar cookies are softer than most cookie doughs (brownie batter, for example).
Using a pan that has sides helps give the cookies a shape as they bake. Other bar cookies, such as lemon bars, use more structured doughs that need to be rolled out or pressed into the pan. In this case, just be sure to use a pan that will be deep enough to accommodate the layer of filling.
Preparing Pans for Bar Cookies
Lightly grease the pan and line it with parchment paper or foil. Leave an overhang on two sides of the pan, which will make it easier to remove the entire bar from the pan without breaking it. Removing the cookies from the pan also allows them to cool more quickly than cooling them in the hot baking pan.
Building Your Own Bar Cookie
Bar cookies have endless possibilities, so use your creativity to add your favorite flavors to any of your favorite recipes to make an entirely new cookie.
The best part about bar cookies are the layers. Don't be afraid don't be afraid to try your own ideas.
Use your favorite cookie recipe as the base of the bar (think shortbread, chocolate chip, oatmeal raisins, or even coconut macaroon). The next layer could be something crisp (chocolate-coated crisp cereal), something chewy (compote of dried fruit), or something creamy (ganache). Top it all off with a tasty icing that will bring all the flavors together—a thin glaze, a drizzle of chocolate, or even a fluffy frosting all work, depending on the desired result.
If you're still not sure, just try adding some of your favorite inclusions or garnishes to brownies or shortbreads. Crush up your favorite cookie or candy and sprinkle on top of brownie batter before baking, add your favorite icing on top of cooled blondies, or finish a bar cookie with toasted nuts or coconut. You'll end up with something new and different, and perfectly suited to any occasion.
In the meantime, here are a few of our favorite bar cookies: