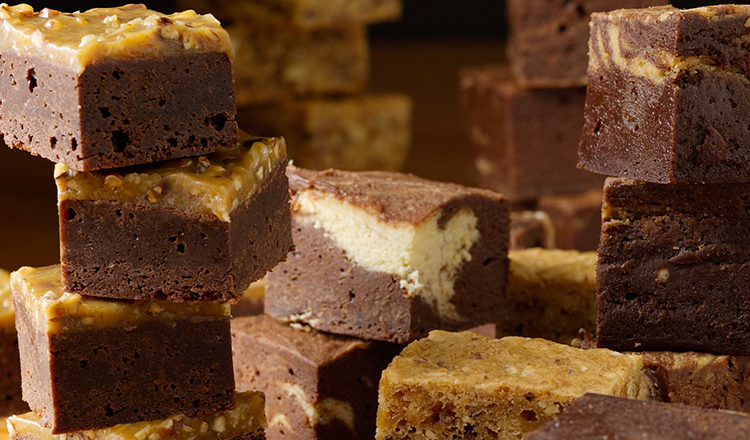 Makes one 9x13-inch pan Brownies
Ingredients
3/4 lb (3 sticks) unsalted butter, cubed 8 oz unsweetened chocolate, finely chopped 3 1/3 cups sugar 5 eggs 1/4 teaspoon kosher salt 2 teaspoons pure vanilla extract 2 cups cake flour, sifted

Topping
Ingredients
1 1/ cups evaporated milk 1 1/4 cups packed light brown… Makes one 9x13-inch pan
Brownies
Topping
Ingredients
3/4 lb (3 sticks) unsalted butter, cubed
8 oz unsweetened chocolate, finely chopped
3 1/3 cups sugar
5 eggs
1/4 teaspoon kosher salt
2 teaspoons pure vanilla extract
2 cups cake flour, sifted
Ingredients
1 1/ cups evaporated milk
1 1/4 cups packed light brown sugar
1/4 teaspoon kosher salt
8 tablespoons (1 stick) unsalted butter
2 teaspoons pure vanilla extract
3 egg yolks
1 cup sweetened flaked coconut
1 cup chopped toasted pecans
Directions
Preheat the oven to 350°F. Lightly grease a 9x13-inch baking pan and line it with parchment paper, letting the ends hang over.
Fill the bottom of a double boiler or a saucepan with a couple of inches of water and bring to a simmer over medium heat. Put the butter and the chocolate in the top of the double boiler or a medium heat-safe bowl and place over the simmering water. Stir occasionally until the chocolate and butter are melted. Remove from the heat and set aside.
Place the sugar and eggs in the bowl of a stand mixer. Place the bowl over the simmering water and heat, stirring constantly, until all of the sugar is melted and the mixture is warm to the touch (or registers 110°F on a candy thermometer), about 5 minutes.
Place the bowl of egg mixture on the mixer fitted with the whip attachment. Add the vanilla and salt to the egg mixture and whip on medium speed until light and thickened, about 5 minutes.
Reduce the speed to low. Drizzle in the melted chocolate and butter mixture and mix until combined. Scrape down the bowl as needed. Blend in the sifted flour.
Pour the batter into the prepared pan and spread with a spatula to level.
Bake until the brownies just begin to puff, about 40 minutes.
Allow to cool completely in the pan.
While the brownies are cooling, make the topping: Combine the evaporated milk, sugar, salt, and butter in a medium saucepan. Place over medium heat and simmer, stirring constantly, for 4 to 6 minutes. Continue cooking and gently stirring until it darkens slightly and thickens to a honey-like consistency, about 12 minutes.
Remove from the heat and slowly stir in the vanilla, egg yolks, coconut, and pecans. Let the topping cool to a spreadable consistency.
Spread the topping over the cooled brownies. Refrigerate until set, about 1 hour, before cutting.
Copyright © 2022 The Culinary Institute of America