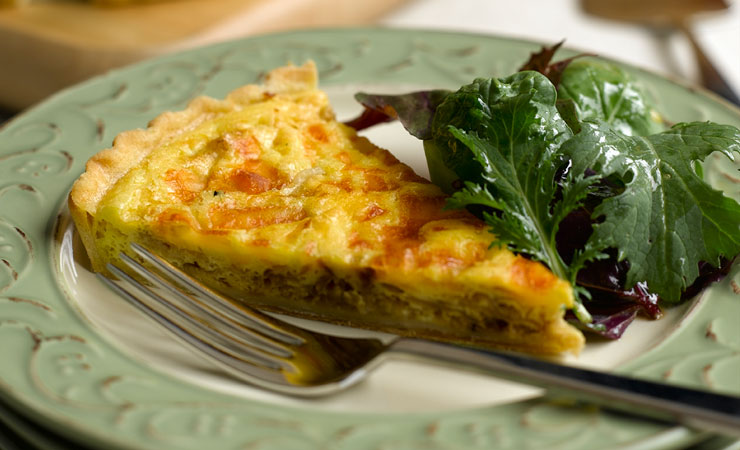 Brunches and, for you early-rising hosts, breakfasts are ideal for family celebrations, like birthdays, anniversaries, and baby showers, especially when the meal is part of a weekend- or even week-long celebration, like a wedding. Breakfasts and brunches are also a great opportunity to showcase seasonal fruits and vegetables and luxury items, like smoked salmon, caviar, and Champagne. Planning a breakfast or brunch menu is all about balance. Salty and smoky foods, like bacon, sausage, lox, and cheese, and savory hot dishes, like hash browns, home fries, egg casseroles, find a balance with tart fruit juices. Soft and creamy spreads contrast with crunchy, crispy, and chewy foods. Brunches also give you license to serve sweeter items than you might at a lunch or dinner. You might treat guests to muffins, coffee cakes, sweet cereals, morning pastries and doughnuts, oatmeal topped with brown sugar and cinnamon, or griddle cakes with maple syrup.
These menus can be as simple or as demanding as you'd like. By selecting a mixture of dishes that hold and foods that cook so quickly that you can prepare them "to order" for your guests, you can tailor how much or how little you'd like to do ahead of time. So, if you're not normally a "morning person," you can still host a marvelous breakfast or brunch—just take care to select mostly (or all) recipes that can be made ahead.
Quiches are a great example of a dish that is deceptively simple to make and can be made ahead since it can be served hot or at room temperature. Quiche is most often baked in a tart pan although it can also be baked in a pie pan, tartlet shells, timbale molds, or custard cups for different presentations.  All manner of fillings can be used, so try creating your own quiche with varying blends of cheeses, meats, and vegetables.
Quiche may also be baked without a pastry crust at all. Butter a shallow casserole or baking dish. Sprinkle it with grated Parmesan cheese, if desired, and spread the filling ingredients over the casserole bottom. Pour the custard mixture on top. Place the casserole dish in a water bath and bake until a knife inserted near the center of the quiche comes out clean, about 1 hour.
Check out our simple but impressive quiche recipes for your next brunch!