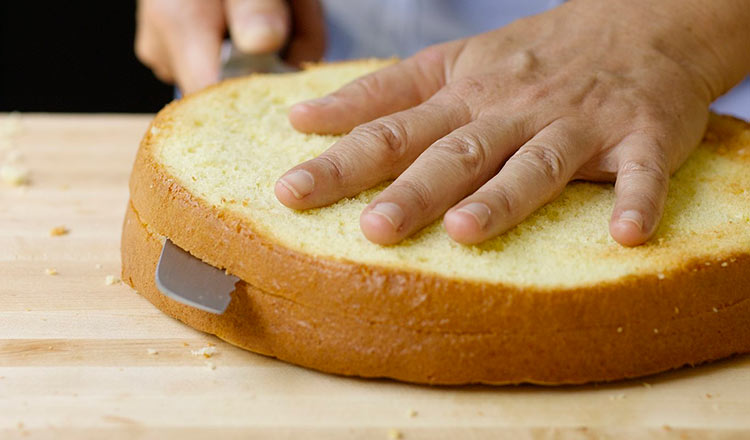 High-ratio cakes have a higher quantity of sugar than some other cakes, which makes them exceptionally moist and tender, and gives them a slightly longer shelf life. Their unique mixing method is simple and leaves you with a cake that's perfect for kids' birthday cakes or your next pot-luck. Makes enough for one 8-inch layer… High-ratio cakes have a higher quantity of sugar than some other cakes, which makes them exceptionally moist and tender, and gives them a slightly longer shelf life. Their unique mixing method is simple and leaves you with a cake that's perfect for kids' birthday cakes or your next pot-luck. Makes enough for one 8-inch layer cake
Ingredients
1 3/4 cup (14 oz) sugar
2 1/4 cup (13 oz) cake flour
1 1/2 teaspoon (6 g) baking powder
1/2 teaspoon salt
3/4 cup (6 oz) milk
2 large eggs (3 1/2 oz)
4 egg whites (4 1/2 oz)
1 tablespoon (1/2 oz) vanilla extract
1 cup (8 oz; 2 sticks) unsalted butter, softened
Directions
Preheat the oven to 350°F. Butter 2 8-inch cake pans. Line with parchment paper, then butter the parchment and dust the inside of the pans with flour. Set aside.
In the bowl of a stand mixer, combine the sugar, flour, baking powder, and salt. Stir or whisk to blend.
In a separate bowl, combine the milk, eggs, egg whites, and vanilla, and stir until well combined.
Fit the mixer with the paddle attachment. Blend the butter with the dry ingredients and half of the milk mixture. Mix attachment on medium speed, scraping down the bowl periodically, until smooth, 4 minutes.
Add the remaining milk mixture in 2 additions, mixing for 2 minutes after each addition.
Transfer the batter to the pans. Bake until the cake springs back when lightly touched in the center, about 35 minutes.
Cool in the pan for about 5 minutes, then turn out onto a cooling rack until fully cooled.
Copyright © 2022 The Culinary Institute of America