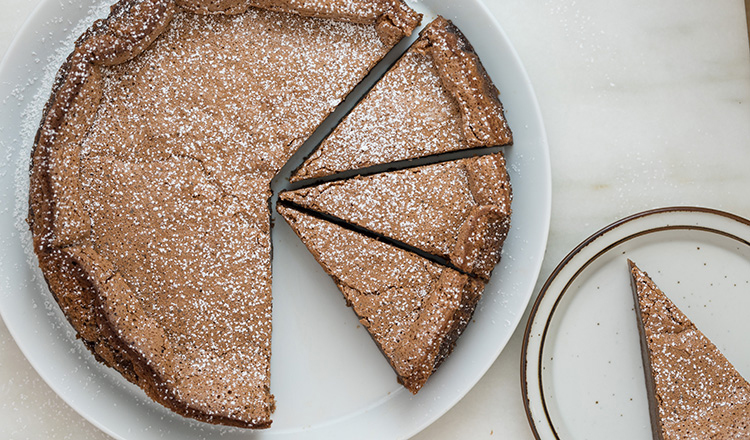 Makes one 8-inch cake
Ingredients
5 oz bittersweet chocolate, chopped 3/4 cup (1 1/2 sticks) unsalted butter plus extra for greasing 10 large eggs (divided use) 2/3 cup sugar (divided use) 1/4 cup Grand Marnier or other orange-flavored liqueur Confectioners' sugar, for dusting (optional)
Directions
Preheat the oven to 375°F. Grease the… Ingredients
5 oz bittersweet chocolate, chopped
3/4 cup (1 1/2 sticks) unsalted butter plus extra for greasing
10 large eggs (divided use)
2/3 cup sugar (divided use)
1/4 cup Grand Marnier or other orange-flavored liqueur
Confectioners' sugar, for dusting (optional)
Directions
Preheat the oven to 375°F. Grease the bottom of an 8-inch round cake pan and line with parchment paper. Use another piece of parchment paper to form a collar around the inside edge of the pan, allowing the paper to extend 3 inches above the top of the pan. Secure the collar in place with tape. Butter the paper generously.
Stir the chocolate and butter together in the top of a double boiler until melted and smooth, or melt them in the microwave on low power in 15- to 20-second increments. There may be a few lumps left, but they will melt as the chocolate cools to room temperature.
Separate 9 of the eggs. Set aside.
In a stand mixer fitted with the whisk attachment, beat the 9 egg whites on medium speed until frothy. Gradually add 1/3 cup of the sugar. Whip the whites on high speed until medium peaks form, about 4 minutes. Transfer the meringue to a separate bowl.
Rinse out the mixing bowl and return it to the mixer. With the whisk attachment, beat the 9 egg yolks, the remaining whole egg, and the remaining 1/3 cup sugar on medium speed until a dense foam that falls in ribbons from the whisk forms, scraping down the bowl with a rubber spatula as needed, about 5 minutes. Add the Grand Marnier and the cooled chocolate mixture. Continue whipping until the batter is evenly blended, 1 minute.
Remove the bowl from the mixer and fold half of the meringue into the yolk mixture until the batter is evenly blended, lighter in texture, and smooth. Fold in the remaining meringue, folding only until blended evenly.
Pour the batter into the prepared pan and bake until the cake just starts to pull away from the sides and the center no longer jiggles when the pan is gently shaken, 45 to 50 minutes.
Let the cake cool completely in the pan on a wire rack before turning out by placing a serving plate over the pan and inverting. Turn the cake upright before slicing and serving. Dust with confectioners' sugar, if you like.
Copyright © 2022 The Culinary Institute of America