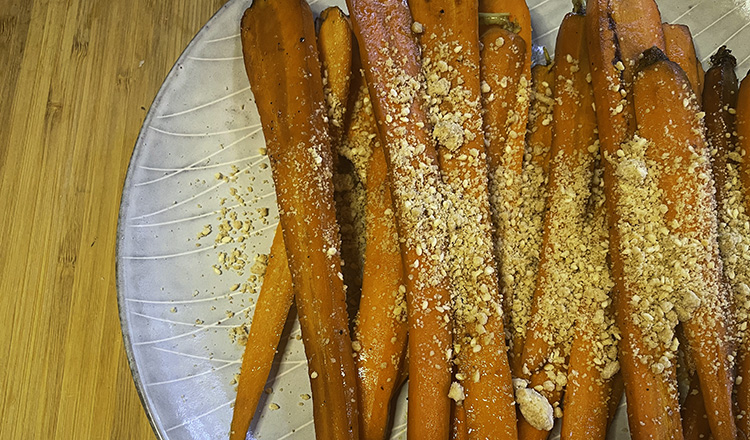 One of the best and easiest Thanksgiving side dishes is a platter of simple roasted vegetables. We've talked about the basics of roasting veggies, but let's talk about how to dress them up for the holidays.
For a typical weeknight dinner, you most likely roast your vegetables in olive oil or another vegetable oil. For a special occasion, consider a fat that's a little more flavorful (and perhaps slightly less virtuous), like rendered bacon fat, schmaltz (fat rendered from chicken skin), or good quality butter, the Thanksgiving workhorse.
Once you have those perfectly roasted vegetables, here are a few make-ahead toppings that you can drizzle on your roasted vegetables (roast them while the turkey rests so they're nice and hot) for a showstopper that is easier than it tastes.
Crispy Pancetta Sauce: Pancetta is an Italian cured pork product that gets nice and crispy, just like bacon. Dice about 1/2 lb and crisp it slowly in a hot pan the fat is rendered and the meat is browned. Add 3 thinly sliced cloves of garlic, and deglaze the pan with about 1/4 cup of white wine or good quality red wine vinegar to make a tangy sauce that cuts the richness of the pancetta. Spoon the mixture over your roasted veggies and top with lots of grated Parmesan cheese to serve. This is delicious with virtually any roasted vegetable, but especially Brussels sprouts and caulflower.
Brown Butter Hazelnut: Brown butter is among the world's top flavors, and it is a no-brainer for Thanksgiving. To make brown butter, dice 1 stick (4 oz, or 8 tablespoons) of butter in a small to medium-small skillet. If you like, you can add a sprig of fresh herbs, like sage, rosemary, or thyme. Heat the butter over medium heat. It will begin to foam and splatter—so be careful—and as you stir, you'll see the color deepen and the solids at the bottom of the pan turn golden brown. Add about 1/2 cup of chopped hazelnuts and stir just until they're lightly browned, about 1 minute. Spoon the mixture over your vegetables and top with a sprinkle of sea salt. You can pair this mixture with any veggie, but we love it with sweeter hard-skinned squashes, like acorn.
Tahini Crumble: Sweet and savory is a welcome addition to any dinner table, and this lightly sweet crumble is balanced by the savory flavors of sesame. In a bowl, combine 1 cup of all-purpose flour with 3 tablespoons brown sugar, 1 teaspoon ground coriander, and 3 tablespoons of sesame seeds. Add 1/3 cup tahini, 2 tablespoons of coconut oil or melted butter, and use a fork to mix until crumbs form. Transfer to a baking sheet and bake until golden brown, about 15 minutes. Sprinkle over your veggies to serve. Try this one over carrots or delicata squash.
Toasted Seed Mixture: When lightly browned, seeds are not just crunchy, but they add even more toasty-roasty flavor to your veggies. In a dry skillet, combine 2 tablespoons black or white sesame seeds, 2 tablespoons sunflower seeds, and 3 tablespoons hulled pumpkin seeds (pepitas). Toast, stirring constantly, until golden brown. Sprinkle over your veggies. This crisp topper is perfect for any vegetable, like squash, broccoli, cauliflower, or Brussels sprouts.
Even Easier No-Cook Roasted Veggie Garnishes
Drizzled tahini + pomegranate molasses + pomegranate seeds
Honey-mustard vinaigrette + toasted pecans + dried cranberries
Roasted pistachios + minced mint + orange zest
Melted honey-butter
Crumbled amaretti cookies (yes, really!)
Puffed rice or other puffed grain
Prepared everything bagel mix
Prepared chili crisp, if you like it spicy
Shaved or shredded sharp truffle cheese