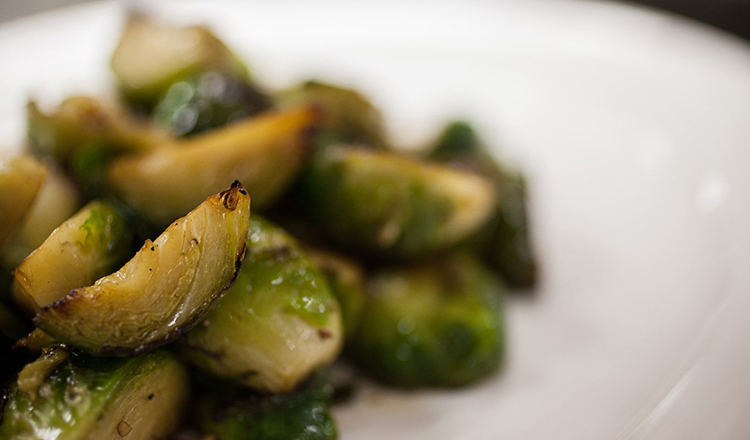 As we ease into autumn, we can finally celebrate the return of roasting—especially vegetables. We love roasting because it is one of the most delicious ways to enjoy seasonal fall produce, like hard-skinned squash, cauliflower, fennel, and Brussels sprouts (color = flavor), as well as incredibly easy and hands-off.
Even better, though, it the versatility of roasting. Once you grasp the fundamentals of roasting vegetables (veggies + fat + heat), you can make swaps and substitutions to create flavor combinations to suit any mood. Inspired by global flavors and paired with contrasting textures, roasted vegetables become the ideal side, salad topper, or sandwich stuffer.
While absolutely any vegetable can be roasted (really!), hearty, lower moisture vegetables are ideal, since they will brown and caramelize without turning soggy. That's roots: carrots, parsnips, beets, turnips, potatoes, onions, shallots. And cruciferous veggies: broccoli, Brussels sprouts, cabbage, cauliflower. And, well, miscellaneous other veggies that are perfect roasted: hard-skinned squashes, like acorn and butternut, mushrooms, corn, and peppers!
Let's get into the details:
Pick your veggie(s!). If you decide to roast more than one vegetable at once, consider the cooking times for each ingredient. Carrots are dry and tough, which means they'll take longer to roast than a moist bell pepper—so start the carrots and then add the bell peppers to the pan once the carrots start to cook through. Thinly sliced onions are a great addition to any pan of roasted vegetables, so consider tossing them with whatever else you may have on hand.Though you can roast vegetables whole, a smaller surface area equals more browning, and that's where the flavor comes in, so trimming your veggies to bite-size pieces will help to maximize tastiness. This includes halving smaller items like Brussels sprouts and radishes.
Choose a cooking fat. Canola or olive oil are neutral-flavored and classic, but they aren't the only option! Choose more flavorful fats, like schmaltz (chicken fat), sesame oil, or bacon fat, if you like. Or for a lower-fat option, toss your ingredients in chicken stock. You'll want the veggies to be coated, but not wet with oil, so add a little bit at a time. Dry bits won't caramelize as well, so make sure you've tossed your veggies.
Season your veggies. Salt and pepper are a good, simple starting point, but don't be afraid to add spice blends, chopped herbs, chili powder, minced garlic, ginger, or dried chiles for heat.This is also a great time to toss your vegetables with flavoring ingredients like soy sauce, miso paste, tahini, hoisin sauce, curry paste, citrus juice, mustard, or balsamic vinegar. Even a prepared salad dressing can make an impact on your favorite veggies.
Roast! Typically, vegetables are roasted at high heat to get lots of color, but plenty of great cooks believe in the low and slow method to achieve tender, juicy veggies that are still ultra-flavorful and rich. Experiment to see what you prefer.For a starting point, keep this in mind: dense, hard veggies like carrots need more time to cook through and can dry out before they ever get tender, so low and slow (or, at least, lower and slower) can be beneficial. 375°F is a good starting point for those kinds of veggies.But higher moisture vegetables, like mushrooms, will leach out water if they're cooked too low or too slow, which will keep them from browning before they get mushy. Cook those veggies at a higher temperature, like 425°F, for a hot flash in the oven. All other veggies will fall somewhere between 375°F and 425°F, so use carrots and mushrooms as your guide.
Finish your vegetables with chopped fresh herbs, toasted nuts, a simple vinaigrette, crumbled cheese, or fresh/dried fruit for layers of flavor. With the right garnish, a bowl of dried vegetables becomes a meal in itself.
Here are a few more tips to get the most out of your roasted veggies:
Your vegetables should always be spread out in one even layer to avoid overcrowding the pan (that means you might need two pans!). A rimmed baking sheet like you would use for cookies is your best option for evenly cooked and well-browned vegetables. A high-sided baking dish can trap steam, which leads to soggy, pale vegetables.
Lining your baking sheet with tinfoil can help keep it clean for a busy weeknight dinner, but you'll generally get the best color if you cook right on your baking sheet. Make sure to toss the veggies at least once through cooking to get that nice browning on all sides.
Roasting veggies can take a while, so if you're getting ahead for the holidays or a dinner party, blanch the vegetables in boiling water the day before you plan to roast. This will not only cut down on your cooking time, but it will also keep your vegetables looking more plump and beautiful.
If your vegetables always come out dry, tough, and chewy, reduce the oven temperature and make sure they're well-coated in oil.