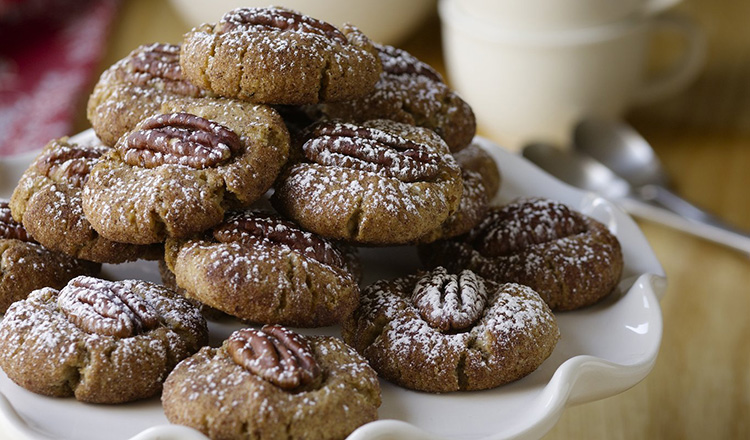 Makes 22 cookies
Ingredients
4 ounces chopped pecans (about 1 cup) 4 ounces (1 stick) butter 1/2 teaspoon vanilla extract 1/4 teaspoon kosher salt 1/4 cup sucralose granulated sweetener 1 1/2 teaspoons brewed coffee, cooled 1 cup white whole wheat flour, sifted 1 teaspoon ground cinnamon 2 teaspoons granulated sugar 22 pecan halves Dusting… Ingredients
4 ounces chopped pecans (about 1 cup)
4 ounces (1 stick) butter
1/2 teaspoon vanilla extract
1/4 teaspoon kosher salt
1/4 cup sucralose granulated sweetener
1 1/2 teaspoons brewed coffee, cooled
1 cup white whole wheat flour, sifted
1 teaspoon ground cinnamon
2 teaspoons granulated sugar
22 pecan halves
Dusting of confectioners' sugar (optional)
Directions
Preheat the oven to 375°F.
Grind the chopped pecans in a blender into a coarse meal. Set aside.
Cream the butter blend. Beat in the vanilla, salt, and sucralose. Continue to beat for about 1 to 2 minutes until light and fluffy. Beat in the coffee.
With the mixer on low speed, gradually add the flour and 1/2 teaspoon of the cinnamon scraping down the sides of the bowl as necessary and beating until smooth.
Add the ground pecan meal and beat until incorporated.
Chill the dough until it is firm enough to handle, about 20 minutes.
Mix the remaining 1/2 teaspoon cinnamon and the granulated sugar. Shape the dough into 22 small balls and roll in the cinnamon sugar. Place the cookie balls on an ungreased cookie sheet and press a pecan half firmly into the top of each cookie, flattening it slightly.
Bake until golden brown, about 20 minutes. Use a metal spatula to transfer the cookies to a rack to cool thoroughly. Dust with confectioners' sugar just before serving, if desired.
Copyright © 2022 The Culinary Institute of America