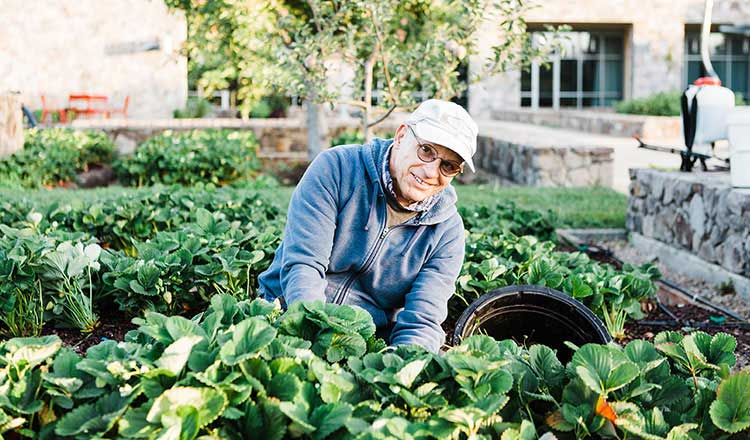 The "victory garden" movement began during World War I as a way to promote self-sufficiency by encouraging Americans to grow their own food. According to a recent New York Times story, so many people took the idea to heart that at one time home, school, and community gardens produced close to 40 percent of the country's fresh gardens.
While our food supply chains remain strong, if you have the space, or even a corner of your window sill or balcony you can spare, why not plant your own victory garden? For local sourcing, it doesn't get any closer to home than this! Many local farmer's markets and even nurseries remain open during this period of sheltering at home, and can provide you starter plants. With the weather warming up, it's also an ideal time to prepare your garden beds for outdoor planting and begin planting indoors.
As the on-site culinary gardener here at The CIA at Copia, I am looking forward to the return of our garden tours later this spring as I always enjoy answering questions from the community. In the meantime, I'm happy to share some tips based on common questions I get asked. Copia's gardens provide the produce for our restaurants and many of our cooking classes, and are free and open to the public seven days a week.

Q: What kinds of things should someone be thinking about if they are planting a victory garden for the first time?
The first is location. Find a sunny spot as summer vegetables will need about 6 to 8 hours of sun per day. The second is soil health and compost. You'll want at least one inch of compost throughout. While the point is to grow things you can eat, don't forget to also think about flowers, which can help attract beneficial insects, not to mention adding some natural beauty.

Q: What are the "easiest" things to plant to get my feet wet?
If you're looking for something that will grow quickly, try baby arugula, spinach or kale, lettuce, green onions or bok choy–all of these can be harvested in about 30 days. You can also start a variety of plants and herbs indoors and replant them outside later.

Q: What are some "rookie mistakes" to avoid?

#1 Not digging deeply or wide enough. Digging is hard work! A lot of people make the mistake of cutting corners here but trust me, it's not worth it.

#2 Shallow watering. It is better to water more less frequently than less more frequently. Think of it as simulating a good rain shower.
#3 Not understanding what type of soil you have. Soil can be amended in any number of ways but it's essential you know what you are working with. Soil Test Kits are inexpensive and easy to use.

Q: Is it true one can use food scraps to plant new vegetables?
Absolutely! For example, you can put leftover lettuce leaves in a bowl with water and place it in a sunny spot until roots start to appear, at which point you can transplant it into soil. Don't forget to mist it occasionally until it's ready to be planted. Celery and basil can also be grown in water this way, while ginger root, onions and potatoes can be planted directly in soil.
And don't forget to compost at home to help ensure healthy soil over time too. Home composting is a great way to reduce food waste, a major contributor to climate change.

Q: What kinds of things should I be planting right now?

PlanetNatural.com and JohnnySeeds.com are two resources I recommend to help you know what to plant and when depending upon where you live. Remember also to think about what you enjoy eating and cooking! Here at Copia in Napa what I'm planting at this time of year are carrots, beets, radishes, lettuces, baby romaine, and leaf lettuces; herbs such as, tarragon, Italian parsley, chives, rosemary, thyme, and sage. Some flowers at the end of April include: marigolds, cosmos, cleome, salpiglosis, zinnias, bachelor buttons, dahlias, echinacea, and agastache.

Q: Is it better to have a lot of variety or select a few different things to plant?
Mixing and matching plants and species mimics natural biodiversity and will definitely boost your chances for success. Think of your garden as a mini ecosystem and you'll naturally attract a wider variety of beneficial birds and insects that in turn will help it to be more productive with less effort.
Do you have other gardening related questions? Post them in the comments and we'll get back to you!
Until then, below are some of our favorite garden-fresh recipes from the CIA. I hope to see you this spring in the gardens!

Jon Brzycki (Farmer Jon)
Culinary Gardener, The CIA at Copia
Seasonal Vegetable Fritters with Chef's Choice Aioli
Farmer's Delight Pureed Soup with Garden Gremolata
Basil Peach Shrub
This story originally ran in The Napa Valley Register, April 2020.