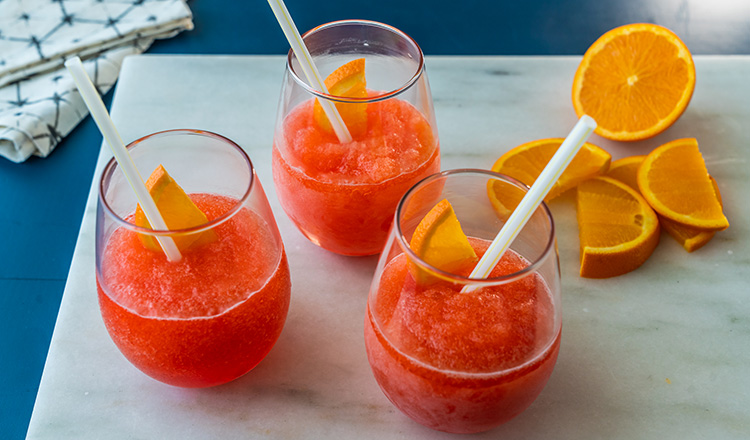 If you watch the morning cable news shows, you have probably heard about ten million conversations surrounding The Song of the Summer.
Inevitably, there are many songs of the summer, and while the concept is flawed, we like the sentiment. Because ultimately, if we're talking about the song of the summer, it can only mean one thing.
It is summer! (cue the song of the summer)
Naturally, the most essential consideration just after your summer playlist is your summer cocktail. Some people don't waver: gin and tonic every day. But if you've ever had a froséon the sunny patio at a cute little restaurant, you know that sometimes a trend is worth embracing.
That's why we want to be the first (or, at least, the loudest and most enthusiastic) to declare The Drink of the Summer is:
The Aperol Spritz is already an exceptional summer drink. Aperol liqueur, which is simultaneously sweet and bitter, paired with sparkling wine and a nice squeeze of orange wedge. Poured over a ton of ice, it's incredibly refreshing, and its perfect red-orange hue looks pretty fantastic next to your fresh summer manicure.
In the spirit of frosé, which taught us that any good thing is better once frozen, we developed this Frozen Aperol Spritz as a little summer gift to you. And here's the best part: it's ridiculously easy to make.
We combine equal parts Aperol and prosecco (or whatever sparkling wine you like best, and yes, it can be still wine because, no, it unfortunately does not stay bubbly), and then freeze it. Because of the sugar and alcohol, it won't completely solidify, so you'll have a sort of icy mixture.
Take that and blend it with ice cubes, and that's literally the whole recipe. You can refreeze any leftovers (which you're unlikely to have, but it's not impossible…) and just re-blend it when you're ready. Even better: it can be made days or even weeks ahead of time in case any spontaneous par-tays break out!
If Aperol is a little strong for your tastes (it is admittedly pretty bitter), replace about 1/3 of the liqueur for freshly squeezed orange juice or even blood orange soda.