To an observer it must have looked like some bizarre heist movie. Here's the scene: It was a warm night in late April. Ruined pillars from some forgotten structure loomed above the Hudson River. Flowers covered the apple trees nearby. A car approached, the headlights flashing, only to turn off the paved road at the last moment and park on the slope leading down to the fenced in ruins. Students approach, still dressed in their chef's whites after completing their evening kitchen classes.
"Did you get them?" they asked, in hushed tones. I nodded, feeling a big grin breaking out across my face.
"Yep, all 40,000 of them. Driving over the river was nerve-wracking!"
I opened the back door of my SUV and the students swarmed in, helping to lift and carry the two large boxes down the slope to the fenced in area surrounding the ruins.
"The boxes are warm," one student commented. "Is that normal?"
"It is. Can you feel them vibrating?" I asked.
"I can!" she nodded, her eyes wide.
We carefully placed the boxes on the wooden pedestals we'd set up days earlier. I knelt and carefully peeled back the plastic covering the small opening, and we all scattered as something small and angry burst out of the box. Fortunately, nothing else happened and we repeated the process with the other box. We set up jars full of pale golden chamomile infused simple syrup the students brought with them and departed as quickly as we came.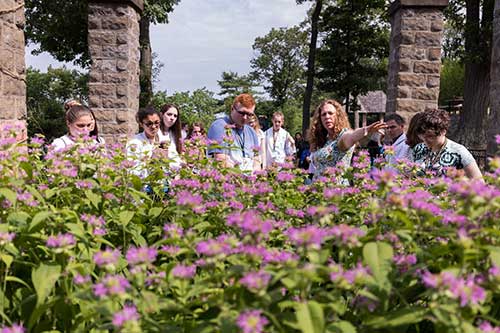 That's how the two newest beehives arrived at The Culinary Institute's Hyde Park campus. I had travelled across the Hudson River to the local beekeeping supply store to pick up two hive nucleuses (or nucs) that had wintered over locally. In each box were five frames of mixed larvae and honey as well as a single queen bee and all her attendants, drones, and the worker bees that made the hive function. They had to be picked up and installed at night, since all the forager bees would have returned to the hive at dusk. We didn't want to leave anyone behind. (Bee-hind?)
It isn't easy moving beehives – they have to be moved either no more than a few feet away from their initial location or at least a few miles. Anything else disorients them. You need to be careful driving – imagine having an accident with two hives full of angry bees in the car! Recently an eighteen-wheeler carrying over 400 hives overturned in Utah, prompting a major emergency that ended in the tragic loss of millions of bees.
Once they've arrived in their new homes the hives must be monitored for parasites and signs of crowding. You need to make sure the queen is healthy and laying well. It's nerve wracking and rewarding work, and it requires a particular type of calm mindset. It isn't a good idea to tend to the bees if you're agitated or stressed, because agitated people make the bees nervous, with bad results all around. I find it soothing to have a task that requires me to focus myself entirely on the moment, my actions, and the safety of my student volunteers. When you tend the hives, all you can think about is the bees.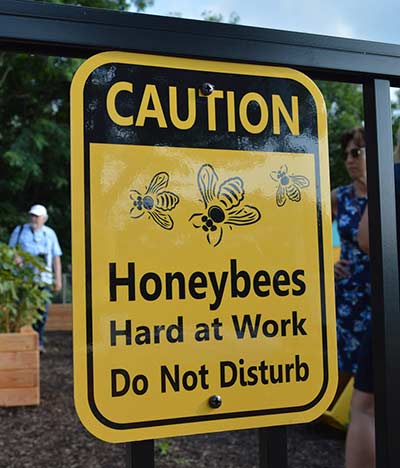 I've been overseeing the Apiary project since 2017, when it was first proposed by a student in my Project in Applied Food Studies senior class. The class is intended to create lasting change on campus through allowing students to propose and carry out projects that they feel passionate about. They need to propose the project, gain administration approval, and figure out how to fund their proposals. Once approval is gained, they put in the hard work and sweat to build whatever is needed, and they tend to their projects afterward. I commit to carrying the projects forward, making sure that their efforts aren't forgotten when they graduate, and acting as an advocate and resource center for the students, who do the hard work themselves. The apiary is one of our greatest success stories.
It started when my students proposed bringing beehives back to campus (our previous beehives were removed when the student dining hall, the Egg, was added). In order to gain approval, students had to convince faculty, staff, and their fellow students that an apiary would make a good addition to campus. They conducted polls and public information sessions, scouted a good site, held a huge fundraising dinner to secure funds, cleared and prepped the abandoned area, built the stands for the beehives and the pollinator hotel, and planted the gardens. Every semester I make sure the gardens are maintained and the bees are cared for. Most recently an Applied Food Studies student won the contest for a new school mascot, and our school is now represented by Sting the Bee—an appropriate and tasteful choice!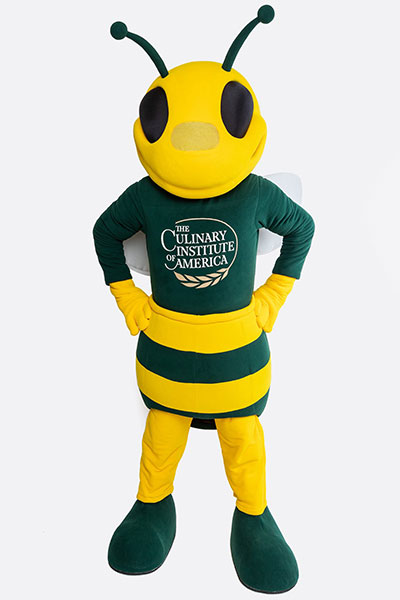 The Apiary is a small enclosure in a former pavilion that's been turned into a drought tolerant, pollinator-friendly garden. We currently have three beehives housing upwards of 50,000 bees each. Keeping them alive is a struggle—bees have so many challenges these days. They suffer from loss of habitat, pesticides, weedkillers, increasing numbers of aggressive parasites, and industrial beekeeping practices that leave them malnourished and disoriented. If our pollinator populations weren't in trouble, though, we wouldn't feel that it was as urgently necessary to teach our students about them.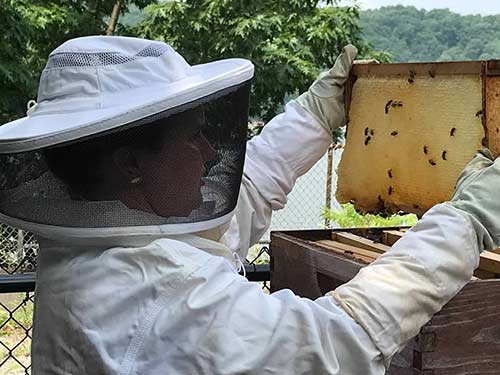 For chefs with an interest in sustainability, there is no better practice than beekeeping. Pollinators are at the base of the food system we all rely on. An estimated 40% of all plant foods rely on pollinators, whose populations are in decline globally. Honeybees are the easiest to see because they conveniently bunch up so we can spot when they vanish, but other pollinators, including butterflies, are in trouble, too. We keep a pollinator hotel to allow students to get familiar with our solitary pollinator species, along with the beehives. Our gardens grow herbs that are tasty for humans and provide excellent food sources for butterflies. I find students down there often, watching the hives and reading, studying, or just taking a break in the garden. The Apiary helps to make the campus gardens more productive and provides honey for student projects and tastings. We hope to expand enough in the future to provide honey to our kitchens and bakeshops as well.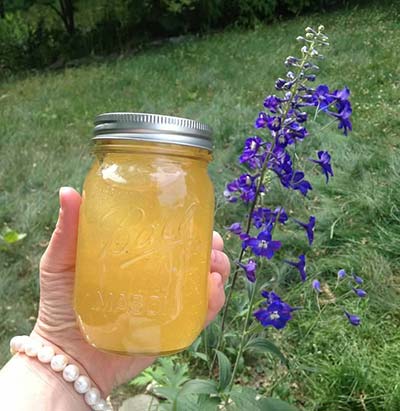 Beekeeping is useful, but it's also an adrenaline rush. When my student volunteers put on their beekeeping suits and reach their gloved hands into a box full of thousands of live bees, they are afraid. It's good to be cautious. But when they pull out combs of spring honey that tastes like flowers and flows as pale as water, they are exhilarated. And so am I, watching their hard work bear fruit.
---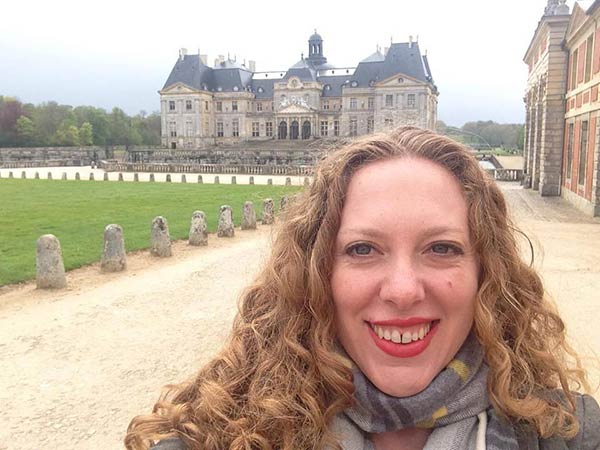 Dr. Maureen Costura is a professor of liberal arts at our New York campus and is currently teaching a variety of classes in the Applied Food Studies bachelor's degree program, like Gastronomy, Archaeology of Food, and Global Cultures and Cuisines. She holds a PhD in anthropology and an MA in archaeology from Cornell University. Her major research interests include French colonial societies and the archaeology of daily life, particularly the archaeology of food. Dr. Costura also maintains the on-campus apiary and beehives.