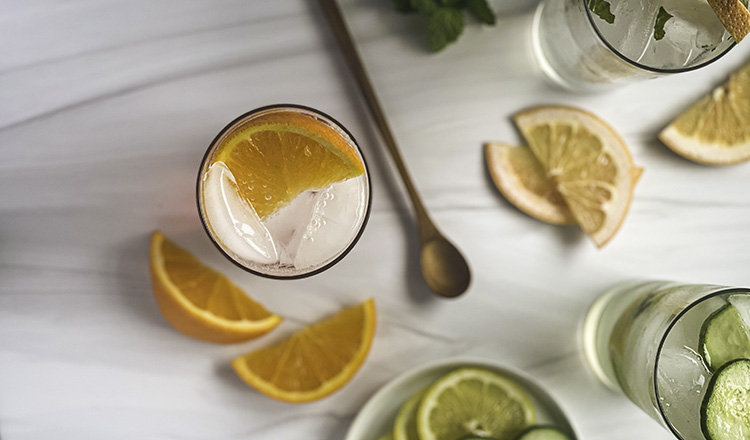 As the unofficial last weekend of summer, your Labor Day Weekend should be a celebration of all things summer. Song of the summer on loop, bottomless corn on the cob, and of course, the drink of summer 2021: the spiked seltzer.
Canned hard seltzers in a can took over the world this year, piggy-backing on the popularity of the classic non-alcoholic version. Fizzy, refreshing, and sugar- and sodium-free? What could be better than a cold seltzer?
Unfortunately, most commercial spiked seltzers take some liberties, adding ingredients that are sort of antithetical to the beauty of seltzer. They are often quite sweet, made with malt liquor and flavorings, more like a wine cooler than a crisp pamplemousse over ice.
Of course, seltzer is nothing more than soda water rebranded to be very cool, so it's no stranger to happy hour. This weekend, instead of buying that variety pack for LDW, use your favorite seltzer to mix your own low-alcohol, ultra-refreshing spiked seltzers that are truly simple and party-friendly—no recipe needed!
Liqueurs are a great starting point for free-styling a spiked seltzer. They're generally lower alcohol than your typical spirits, they are strongly flavored and often sweet—both key components of a simple cocktail mixer. Pair liqueurs with fresh fruit juice and herbs for a cocktail you can sip all day.
Fruit-based liqueurs, like Grand Marnier, Chambord, and Cassis are familiar and simple to pair, but don't hesitate to try floral or herbal flavors. These liqueurs can be expensive, so keep an eye out for mini-sized bottles to try before you commit.
Start with plain or flavored seltzer, considering the flavor profiles of the base seltzer to influence your additions. For every 1 1/2 cups (or can) of seltzer, start with an ounce of liqueur and a few ounces of fruit juice or muddled fresh fruit. Adjust the flavoring to your preference, adding torn herbs or even slices of fresh chile to the mix, and top with lots and lots of ice.
Here are a few of our favorite spiked seltzer mixes.
Grapefruit seltzer + fresh grapefruit juice + torn mint + elderflower liqueur
Orange seltzer + fresh orange juice + Campari or Aperol
Plain seltzer + muddled cucumber and lemon + torn basil + limoncello
Lime seltzer + guava nectar + fresh lime juice+ orgeat
If you need additional inspiration, look to your favorite cocktails and give them a flip. If you are accustomed to adding a splash of soda to the top of the glass—like in a spritz or fizz—instead use the soda as the base, adding smaller quantities of the liqueurs and spirits and extra fruit juice or other flavorings.
If mixing drinks is not part of your three-day weekend vibe, make batch mixes of fruit juice, liqueur, and garnishes, like fresh fruit. Set out the pitchers, your favorite varieties of seltzer, and plenty of ice so your guests can spike their own seltzer.