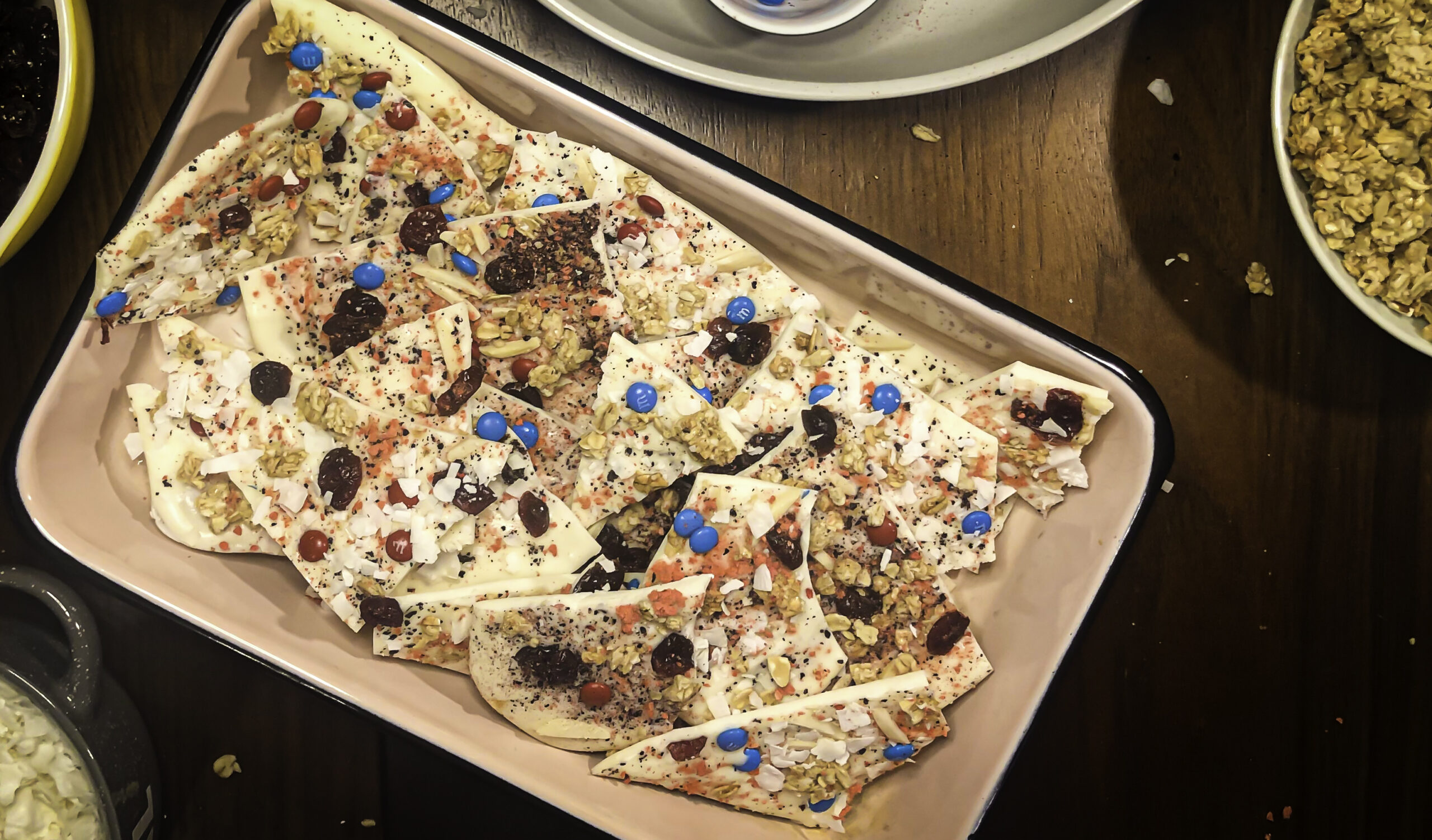 Sometimes cooking is about the journey, not the destination. That is especially true when cooking with kids, and particularly when cooking with kids who have been inside a lot these last few months.
For the Fourth of July this year, we're keeping it simple—and fun!—with some candy crafting. White chocolate makes the perfect base for your patriotic display of red, white, and blue. And even better, it tastes as good as it looks!
Here's what we used to make Red, White Chocolate, and Blue Bark. This is enough for about four peoples' worth of crafting, but you can scale up or down as needed.
Ingredients
1 (1.2 oz) package freeze dried strawberries or raspberries (see note)
1 (1.2 oz) package freeze dried blueberries (about 1 1/2 cups)
1 lb white chocolate, chopped (or about 1 1/3 bags white chocolate chips)
2 cups granola, any flavor
2 cups unsweetened coconut flakes
2 cups dried cranberries or cherries
1 cup slivered almonds
1/4 cup red and blue mini M&M candies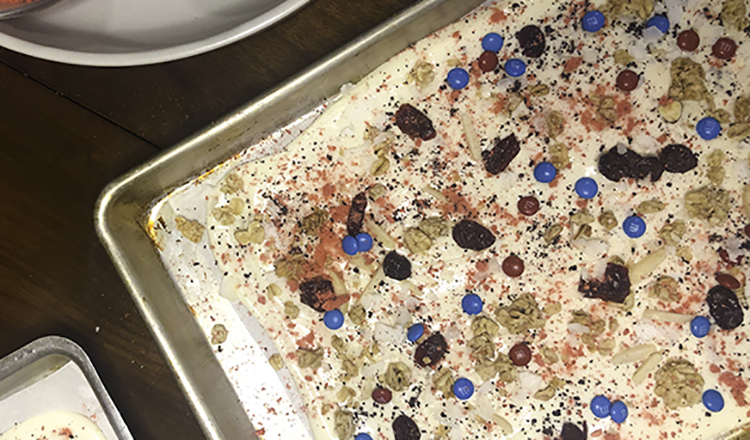 Directions
Melt the chocolate over a hot water bath or in the microwave at 20-second intervals, stirring each time.
Meanwhile, in a small food processor or coffee grinder, pulverize the dried strawberries until they create a powder. Transfer to a bowl and repeat with the blueberries.
Line four baking sheets, trays, or a heat-safe surface with parchment paper. Pour the melted chocolate in four even portions over the parchment-lined surfaces and spread into a thin, even layer, about 1/4-inch (precision is not essential. Make it big enough to decorate!).
Use the strawberry and blueberry powders and the remaining ingredients to decorate your white chocolate. Leave the chocolate to set and fully harden for at least 1 hour, or transfer the pans to the refrigerator to set more quickly, if you like.
Break the chocolate bark into pieces to serve.
Note: Freeze-dried fruits are the crunchy kind, rather than the soft squishy ones.
Make sure you set out tools for scooping and swirling, like small offset spatulas, skewers, or chopsticks. And, of course, these are just suggestions. You can add things like sprinkles, colored sanding sugar, food coloring, or your favorite candies!
Oh, and don't sleep on the granola. It sounds like the least important part of this recipe, but we've learned that granola + white chocolate is pretty tasty.