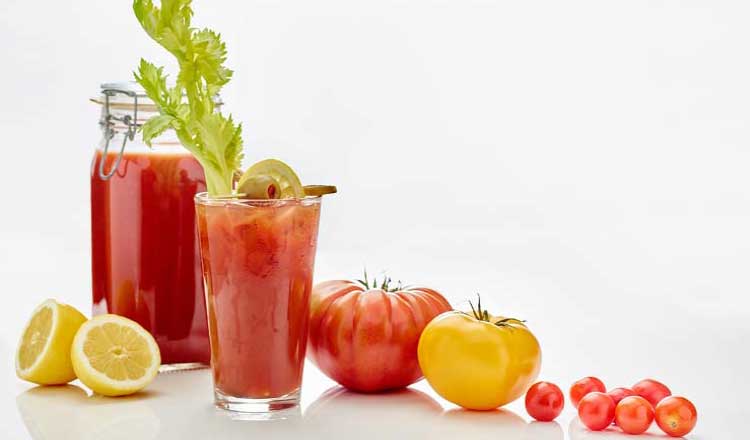 As with most popular cocktails, the Bloody Mary has a storied and bloodily contested past. Lucky for us, then, that two highly respected cocktail historians, David Wondrich and Gary "Gaz" Regan, both agree that the earliest and most likely origin story credits this invention to Ferdinand "Pete" Petiot, a young French bartender working at Harry's New York Bar in Paris circa 1921. While trying to decide how best to use a newfangled Russian import called vodka, our intrepid young bartender had his historic "aha!" moment after being introduced to yet another new import, canned tomato juice from America.
Initially, his creation is given the unappetizing name of the Bucket of Blood, but Pete wisely renames it the Red Snapper after moving to New York City in 1933 to work at the St. Regis Hotel's King Cole Bar.
Fast forward a few more years and a few more name changes (in 1942, LIFE magazine dubbed it the Red Hammer) and, eventually, we arrive at the garden-variety classic cocktail we all know and love as the Bloody Mary. It's the epitome of a "cocktail from the garden," and the benchmark for judging all others.
Typically, it's a combination of vodka and tomato juice with (or just as often without) varying quantities of lemon juice, hot sauce, Worcestershire sauce, celery salt, horseradish, and beef bouillon, with salt and pepper to taste. I can't think of another Prohibition-era cocktail that includes as many savory and culinary ingredients as this classic.
That being said, the drink provides the perfect cocktail canvas to creatively explore seasonal produce and globally influenced culinary flavors. Keep in mind, each of the following Bloody Mary variations will also make for a delicious non-alcoholic beverage.
Summertime Bloody Maria
For a refreshing summertime version, think of a cooling Spanish gazpacho. I'll add thinly sliced English cucumbers and puréed roasted red bell peppers to the tomato juice. If you own an extractor-style juicer, consider juicing your cucumbers. Add a bunch of fresh cilantro, a few lightly crushed garlic cloves, and a heavy splash of sherry vinegar (replacing both the lemon juice and Worcestershire sauce) before letting it steep overnight. After I've blended this juice into my Bloody Maria, I'll drizzle the top with a little Spanish extra virgin olive oil to add viscosity and some fruity notes.
Autumnal Bloody Marie
For me, fall always inspires thoughts of classic French cuisine (coq au vin or cassoulet, anyone?) This is when I'll flavor my tomato juice with fresh fines herbes (parsley, chives, tarragon, and chervil) and fennel bulbs (either slicing the bulb very thinly or juicing one in that aforementioned extractor). Add a splash of champagne vinegar instead of lemon juice, a couple dashes of Maggi sauce (originally a Swiss product, but still popular in France) instead of Worcestershire, and as always, a few of those lightly crushed garlic cloves. Once it's all steeped for the night, make yourself a Bloody Marie and finish it with a sprinkle of French sea salt.
Wintertime Bloody Marianna
During winter, I'll add traditional Italian flavors, steeping the juice overnight with fresh oregano leaves, lightly crushed garlic cloves, a splash of balsamic vinegar (again sitting in for both the lemon juice and the Worcestershire), and a dash of Italian Calabrian chili sauce replacing the hot sauce.
Springtime Thai Bloody Mary
When spring arrives, I make a Thai-style Bloody Mary, infusing my tomato juice with roughly chopped bird's eye chilies, torn Thai basil leaves, lightly crushed garlic cloves, Thai fish sauce replacing the Worcestershire, and Sriracha instead of any other hot sauce. When I prepare the drink, I find that fresh-squeezed lime juice works better in this recipe than the classic lemon juice.
Endless Possibilities
I hope these ideas inspire you to create your own unique Bloody Mary variations. Instead of tomato, consider carrot juice, beet juice, or even that purée of roasted red bell peppers I mentioned earlier. Instead of vodka, you might enjoy the vegetal notes of a good tequila, the smoky qualities of a classic mezcal, the botanical notes of London dry gin, and so on, and so on, and so on. The possibilities are really endless.
Michael Kim Wolf is an assistant professor of hospitality and service management at the CIA at Greystone, where he shares his insights from nearly 30 years of experience in the food and beverage industry with students. He recently developed, and now teaches, the distilled spirits and mixology curriculum for the CIA's Wine and Beverage Graduate Certificate program.