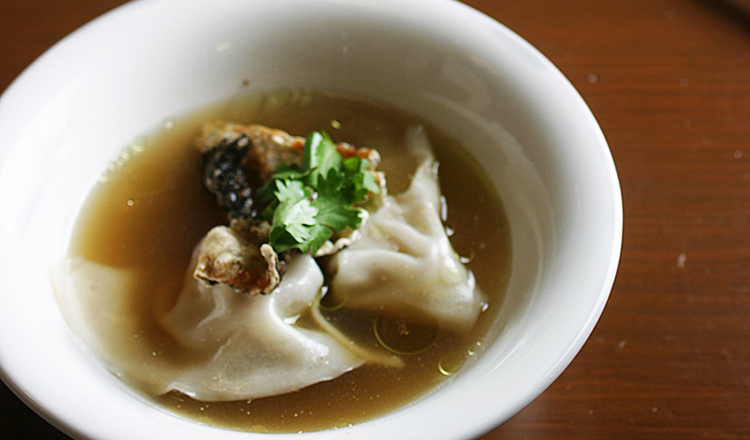 Makes 8 servings Wontons
Ingredients
3 oz ground pork 1/2 cup finely chopped Napa cabbage 2 tablespoons Chicken Broth 1 tablespoon finely chopped scallion greens 1/2 teaspoon minced fresh ginger 3/4 teaspoon soy sauce 3/4 teaspoon sesame oil Pinch salt Pinch freshly ground white pepper 1 package wonton wrappers 1 egg, beaten

Soup… Makes 8 servings
Wontons
Soup
Ingredients
3 oz ground pork
1/2 cup finely chopped Napa cabbage
2 tablespoons Chicken Broth
1 tablespoon finely chopped scallion greens
1/2 teaspoon minced fresh ginger
3/4 teaspoon soy sauce
3/4 teaspoon sesame oil
Pinch salt
Pinch freshly ground white pepper
1 package wonton wrappers
1 egg, beaten
Ingredients
2 teaspoons vegetable oil
1 teaspoon minced scallion greens
1/2 teaspoon minced fresh ginger
5 cups Chicken Broth
1 1/2 teaspoon Chinese black soy sauce
Salt as needed
Freshly ground black pepper as needed
Directions
Make the wontons: Combine the pork, cabbage, broth, scallion, ginger, soy sauce, sesame oil, salt, and pepper. Mix well. Place ½ teaspoon of the mixture in the center of a wonton wrapper. Brush the edges of the wrapper with beaten egg and fold into a triangle. Twist and press two triangle points together to form a wonton. Repeat with the remaining filling and wrappers to make about 32 wontons.
Bring a large pot of water to a boil. Cook the wontons in the boiling water until they float, about 2 minutes. Drain and rinse under cool water. Transfer to a bowl, cover, and set aside.
Make the soup: Heat 1 teaspoon of the oil in a large wok or a soup pot over medium- high heat. Add the scallion and ginger and stir-fry for 30 seconds. Add the broth and bring to a simmer. Add the soy sauce and the salt and pepper to taste.
Distribute the wontons evenly between heated bowls (there should be at least 4 per bowl). Ladle the soup over the wontons and serve.
Copyright © 2021 The Culinary Institute of America