In celebration of National Women's History Month, we are excited to highlight CIA chefs who inspire us to be better every day and have fun in the kitchen!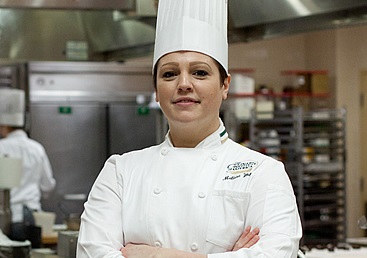 Melissa Walnock '01 – Hyde Park
Lecturing Instructor – Baking and Pastry Arts
What inspired you to pursue a career in food?
I was diagnosed with Type 1 diabetes at the age of 10 so food has always been a huge part of my life. As I got a bit older, I saw my two older brothers find their career paths and I wanted to go my own way. I took the care and concern of food and coupled it with my love for art and creativity, travel and the lack of want for a desk job, applied to the CIA and here we are!

What is your proudest professional accomplishment?
Getting this job. I was never more nervous about an interview or practical than when I came to the CIA. I was competing with people at the top of their game for a position here. And under the same blanket — getting Faculty Member of the Year and being the first female to run the Apple Pie Bakery.
If you were not in the food industry, what do you see yourself doing?
Therapist! I am fascinated by human behavior and after having met a wide range of people and personalities in restaurants, I would love to know what makes people stress and how to help them with the mental wear and tear of our profession.
What is the best piece of advice you've been given?
Two things: 1. You don't have to be mean to gain respect in a kitchen. This changed my whole philosophy of how I treat my cooks and it has allowed me to still have friendships with people I worked with a decade ago. 2. Never stop learning. Not only does this keep my mind open to staying current and continuously challenging myself but it's also very humbling. As good as anyone thinks they are at what they do, there is always something out there you don't know yet.
What is your favorite thing about the Food Enthusiast classes?
I love the energy of the people attending the class! When you take on a class of people for the day who want a taste of the full CIA experience, they often can't hide their excitement and it makes me want to do the best I possibly can to make sure they have a great day.