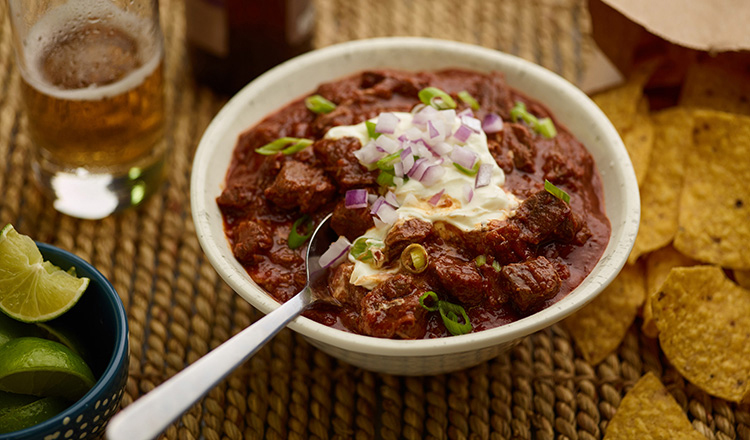 Are you ready for some chili?
We aren't quite sure how chili and football became forever linked, but we know we like it. And while a hot bowl of chili is perfect for any old Sunday, we think the Big Game calls for a super chili spread!
This year, don't fumble—take your chili game to the next level with a mix-and-match chili extravaganza the whole family will love.
Kick-off with your favorite beef, turkey, or veggie chili recipe (try one of ours!), and use a slow-cooker to keep it hot throughout the game. Put out some classic chili sides for the purists, like sour cream, chopped scallions, Cheddar cheese, and diced onions. But after that? It's party time!
Everyone loves a chili cheese dog, so have some hot dogs and buns on hand. Swap that hot dog out for a baked sweet potato, and load it up with chili, cheese, and plenty of pickled jalapeños for a half-time treat made for a champ. If you're wondering if you can put the chili in potato skins, the answer is: um, yes, please! We call that the MVP: most valuable potato.
If you like your chili with a crunch, don't forget about the Texas-classic Frito pie! Layer your chili in a bowl with crispy corn chips and plenty of toppings for a tail-gate classic. Like that idea, but need a few extra veggies? Make it a taco salad. Top your favorite greens with bell peppers, sliced green olives, charred corn, avocado, and—of course—a scoop of chili! Drizzle it with Lime-Cilantro Vinaigrette and some crushed tortilla chips for texture.
Speaking of tacos, make yourself a mini-taco bar with tortillas, refried beans, and, you guessed it: chili. Shredded cabbage, cilantro, and pickled onions will add something fresh.
Are you more of a dip family? Chili has you covered. In a saucepan, melt together cream cheese, shredded pepper Jack cheese, and a splash of milk. Stir in some chili for a scoopable chili con queso! Use any leftovers for loaded nachos (don't forget the guac for extra points).
And now for dessert! Just kidding, we don't make chili cookies, but if we did, we would probably add a pinch of ancho-chile powder to our Mudslide Cookies.
Go team!