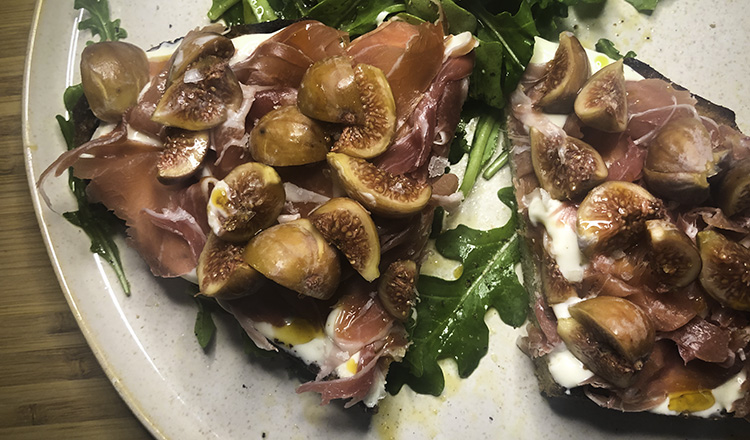 My neighbor has a fig tree in her backyard, and about 1/3 of it hangs over the fence into my backyard, which means I have 1/3 of a fig tree (I'm not a lawyer, but I hope this checks out). Usually, the squirrels and birds get to the figs before we can, but this year, we managed to snag a few handfuls to enjoy for ourselves.
There is so much I want to do when I get my hands on figs, but with this limited quantity, jam or baked goods were sort of off the table. In that case, a simple ricotta toast is almost always my number 1 choice.
I like to blend the ricotta in my small food processor to make it smooth and spreadable, but that's an extra step that you can absolutely skip to simplify your life.
Okay, here's what I used for about 4 portions: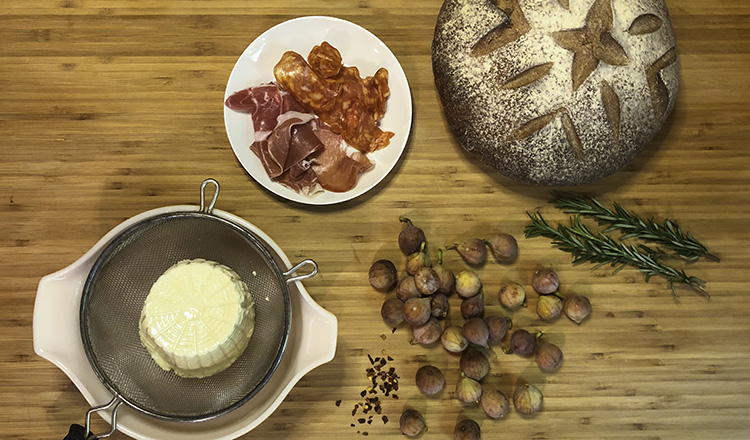 Ingredients
1/2 cup olive oil, plus more as needed
2 tablespoons red pepper flakes – if you don't like spice, skip the chili oil step and use plain olive oil for the toast
12 oz (about 1 1/2 cups) ricotta – if your ricotta seems at all wet or soupy, place it in a fine mesh strainer over a bowl while you prepare the other ingredients
1 tablespoon minced rosemary (from about 1 sprig) – I had rosemary, so that's what I used, buy thyme would also be nice here
Kosher salt, to taste
Ground black pepper, to taste
4 slices rye bread – I like a flavorful bread for a simple toast, but use whatever crusty bread that you like best
3 oz thinly sliced prosciutto – I also made a version with caprese salami which was very delicious, so use whatever specialty salumi you like
6 oz figs, quartered or halved, depending on their size – if you can't find fresh figs, you can also use fig jam, sliced strawberries, peaches, or any summer fruit
4 cups arugula – I intended this as a side, but ended up piling it on top of the toast as I ate, and it was perfect
1 lemon, quartered
Directions
In a small saucepan, heat the oil over medium heat. Add the pepper flakes and cook until the flakes begin to sizzle, about 1 minute. Remove from the heat, cover, and set aside for at least 1 hour. Strain and set aside.
Meanwhile, in a small food processor, combine the ricotta and rosemary. Blend until the ricotta is smooth and lightly whipped, about 1 minute. Season with salt and pepper, to taste.
Using a pastry brush, lightly brush the bread on both sides with the reserved chili oil. Grill or griddle the bread until toasted and browned on both sides.
Spread each piece of toast with a quarter of the ricotta, a few slices of prosciutto, and a quarter of the figs. Drizzle with leftover chili oil, if you like, and sprinkle with salt.
Just before serving, toss the arugula with a drizzle of olive oil (use plain oil for the salad), a squeeze of lemon juice, and salt and pepper, to taste. Serve alongside the toast, or on top, if you prefer.