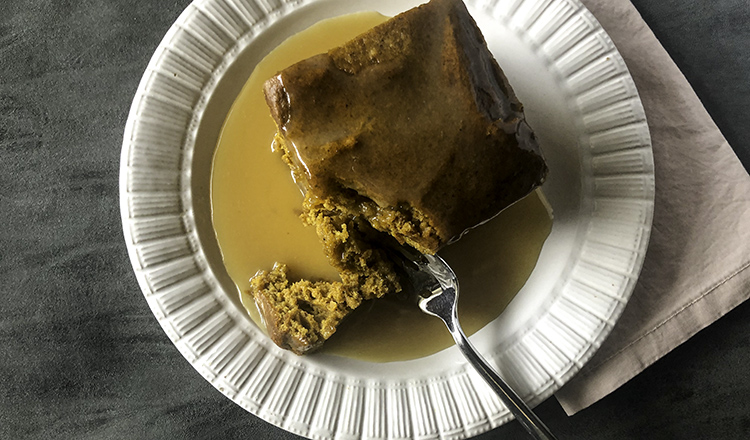 I am one of those people who says, "Oh my goodness, this is my new favorite food" when I taste just about anything, so my endorsement may not hold much weight.
That being said, I love sticky toffee pudding more than just about anything. If you've never had sticky toffee pudding (tragic!), it is an English dessert consisting of a dense, moist date cake covered in caramel sauce.
This time of year, though, I am also magnetically drawn to a spiced pumpkin cake, which as I know it, is usually fluffy and tender with a blend of the cliché pumpkin spices. It's really all I think about once October comes along.
For my birthday this year, which is in September, I asked for sticky toffee pudding in lieu of a proper birthday cake. I think it was still rattling around my brain when the calendar flipped to October, and I have been obsessing over the idea of a sticky toffee pumpkin cake.
So, this weekend I made it, and it was better than I even expected. The cake is much less dense than a typical sticky toffee date cake, but it is by no means pure sponge. It soaks up the creamy maple caramel sauce (which is easy and requires no intimidating sugar cookery) without becoming mush.
I used Medjool dates, because they're big, plump, and easy to find, but don't get hung up on variety. They are blended into the batter, so it's not worth splurging on something exceptional, either. If you don't work with dates much, you can buy them pitted or not. To pit dates, use a paring knife to cut them in half and pull out the pit from the sticky flesh. From there, just give them a rough chop. The exterior may look like it has a skin on it, but that's just the sugary coating that's natural to the fruit, so no need to pick at it.
I hope you'll give it a try, and maybe bookmark it for your Thanksgiving table! It's a nice change of pace from pumpkin pie, but you won't feel like you missed out on something traditional.
Ingredients
1/2 lb pitted Medjool dates, roughly chopped (about 15 each; 1 1/2 cups chopped)
1/4 cup vegetable oil or melted butter
1 (15 oz) can pumpkin purée
3/4 cup brown sugar
2 large eggs
2 cups all-purpose flour
1/2 teaspoon kosher salt
1 1/2 teaspoons baking soda
1 teaspoon ground cinnamon
1/2 teaspoon ground ginger
1/4 teaspoon grated nutmeg
1/4 teaspoon ground clove
1/4 teaspoon ground allspice
Maple Caramel Sauce
4 tablespoons unsalted butter
1/4 teaspoon kosher salt
1 cup maple syrup
1 1/2 cups heavy cream
Directions
In a heat safe bowl, combine the dates with 1 cup of boiling water. Cover and set aside to soak for at least 30 minutes.
Preheat the oven to 350°F. Lightly oil an 8- by 8-inch baking pan and line with two overlapping pieces of parchment paper. Set aside.
In a large bowl, combine the flour, salt, baking soda, cinnamon, ginger, nutmeg, clove, and all spice. Set aside.
Transfer the dates and soaking liquid to a blender. Add the oil, pumpkin, and brown sugar, and blend to combine. Add the eggs and blend again until smooth. Pour the mixture into the bowl with the flour and other dry ingredients, and fold to combine.
Transfer to the prepared baking pan and bake until a toothpick inserted into the center of the cake comes out clean, about 35 minutes. Set the pan on a wire rack to cool.
To make the sauce, combine the butter, salt, maple syrup, and cream in a medium saucepan. The mixture will bubble up at least 4 times its size as it cooks, so be sure to choose a larger pan than seems necessary.
Bring the mixture to a low boil over medium heat, and cook, stirring constantly, until it has thickened enough to coat the back of a spoon and darkened in color to a light caramel color. It will thicken more as it cools.
To serve, slice the cake into 9 or 12 pieces, as desired, and spoon sauce over each slice just before serving.