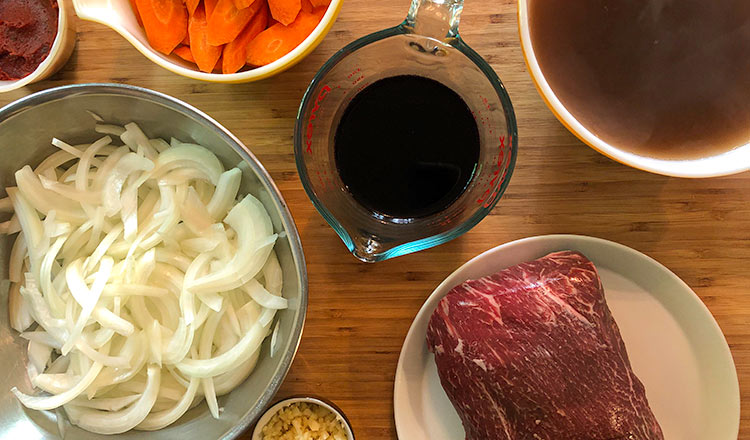 I've never celebrated Passover, but I am not immune to cravings for Mrs. Maisel-quality brisket when all of my friends are preparing for Seder. I put all of the ingredients for a tasty braised brisket on my grocery store order this week, and well, unfortunately, this will be a brisket-less week for this lady.
Here's what I would have had, in an ideal, non-pandemic universe:
Brisket
A lot of onions (4 large-ish)
Carrots
Fresh garlic
Tomato paste
Bones for homemade beef stock
Red wine
Fresh thyme or other fresh herbs
Here's what I had instead!
Top round beef roast
Two onions (1 medium, 1 large)
Carrots!
Pre-peeled garlic
Tomato paste WITH PESTO mixed in, which I did not know existed until right now
1 quart of venison stock, which I was lucky enough to snag at a local butcher who is offering no-contact, curbside service. Otherwise, I would have probably been using water with some soy sauce mixed in.
1 cup of red wine, snagged from the end of a bottle my husband was drinking (sorry, Mike!)
No herbs
Since I don't have a Bubbe's brisket recipe to follow, I am typically inspired by the pot roast my Italian-American grandmother used to make. She used that packet of dried French onion soup, lots of carrots, and tomato paste, which made the braising liquid and resulting sauce semi-sweet and very rich.
I replace the onion soup mix with a ton of onions, which I cook until they are soft and sweet (though not fully caramelized). I like to use an equal mix of beef broth and wine, for richness and acidity.
So, here's what I ended up making. The top sirloin was relatively small (2 lb, but I really like leftovers, so wish it had been bigger), and made enough for 2 people to eat for three dinners.
Ingredients
2 tbsp canola oil
2 lb beef roast — bottom round, chuck roast, brisket, or top round, like I used
Salt and pepper, as needed
2 large onions, thinly sliced — I would have used more if I had them. Up to 4 large onions
5 large carrots, thinly sliced on a bias
2 tbsp minced garlic, from about 6 cloves
1/4 cup tomato paste, with pesto — this did not impact the flavor nearly as much as I expected it to
1 cup dry red wine
1 quart venison stock – I usually use beef stock/broth, but you could use chicken
Directions
Preheat the oven to 300°F. Heat the canola oil in a heavy bottomed pot or Dutch oven over medium-high heat. Season the roast with salt and pepper on all sides.
Sear the roast until it is golden brown all over. If the brown bits at the bottom of the pot begin to burn, lower the heat, add a few splashes of water, and scrape them up before continuing.
Remove the beef to a plate and set aside. Add the onions and a pinch of salt. Cook over medium heat, stirring occasionally and scraping up the brown bits at the bottom of the pan, until the onions are lightly browned, tender, and sweet, about 10 minutes. Add the carrots and cook until the carrots are tender, but not fully cooked through, about 5 minutes more. Add the garlic and cook just until aromatic, about 1 minute.
Add the tomato paste, and stir to coat. Cook until the tomato paste has darkened slightly, about 4 minutes.
Add the wine and stock, and stir to combine. Add the beef roast and all of the juices that have collected on the plate and nestle the beef into the cooking liquid. It should come up just past halfway. Add water or more stock, if needed, and bring to a simmer.
Cover the pot and transfer to the oven. Cook until the meat is tender, about 3 1/2 hours.
If you like, remove the roast from the pot. Set aside and loosely cover with foil. Place the pot on the stove and bring to a simmer, and cook until the sauce has reduced slightly. Season with salt and pepper before serving.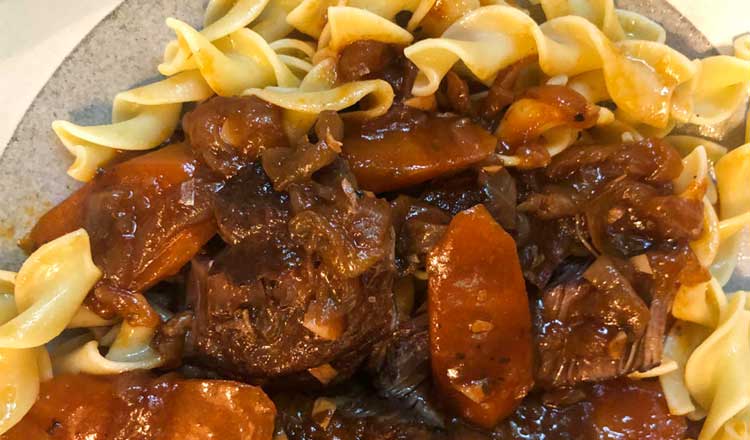 I'm serving the roast with egg noodles, because we happened to have them. They were actually replacement for the lasagna noodles I ordered a few weeks ago, and I've been saving them for the right occasion. Most often, we eat braises like this with creamy polenta.
Add frozen peas in at the end for more a traditional pot roast vibe.
You can make this without the wine and tomato paste, if you don't have either. It'll be less acidic and more traditional brown gravy-style. You can use canned or chopped tomatoes, in place of the tomato paste. Add about 1 1/2 cups and let it reduce before adding the other liquids.
Add other veggies during braising, if you have them on hand. Parsnips, turnips, and potatoes are obvious choices.
If you want to freeze this, freeze the meat in the sauce to keep it from drying out and getting freezer burn. Same goes for storing in the fridge. Always store a braise in its cooking liquid.
If you're using a larger cut of meat, you may need to increase the liquid volumes. You can also cut a big piece into two smaller pieces, so it sits in the liquid better and cooks more quickly.
You can cook this on the stove, if you prefer. Just keep an eye on it and make sure it doesn't boil. You want a gentle simmer.