This dish was inspired by a week of too much takeout and not eating enough vegetables.
The chickpeas are dressed with a creamy blend of avocado, chipotle in adobo (look for the cans near the salsas and taco accoutrement at any grocery store), garlic, and sherry vinegar, and they will dress the rest of the ingredients for just the right amount of tanginess and texture.
Use whatever vegetables you like best, but these are my favorites for holding up to the heat of the grill without getting soggy. Outside of grilling season, you can absolutely roast your vegetables.
For a vegan version, omit the cotija. If you can get your hands on a tasty nut-based sharp cheese alternative, it adds a welcome bit of salt and texture.
Here's what I used for 4 servings (which could serve 3 very easily, if you're hungry):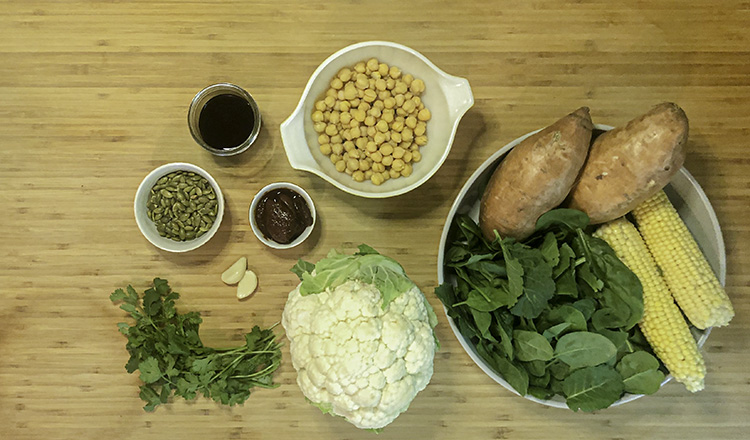 Ingredients
1 medium Hass avocado, peeled and pitted
2 cloves garlic
1 chipotle in adobo
2 tablespoons sherry vinegar
2 tablespoons olive oil, plus more as needed
1 (15 oz) can chickpeas, drained and rinsed
Kosher salt, as needed
Ground black pepper, as needed
1 head cauliflower, cut into 3/4-in steaks
2 small or 1 large sweet potato, cut into long wedges
2 ears corn
8 cups baby greens, like spinach or kale
1/3 cup pickled red onions (optional)
1/2 cup roasted pepitas
1/2 cup grated cotija cheese
Directions
In a small food processor, combine the avocado, garlic, chipotle, and vinegar. Blend until smooth. Add water 1 tablespoon at a time, if needed, until it is the consistency of ranch dressing.
Transfer to a bowl and add the olive oil and chickpeas. Stir to combine, season with salt and pepper, to taste. Cover and refrigerate for at least 1 hour.
Prepare a grill for medium-high heat cooking.
Spread the cauliflower, potatoes, and corn on a baking sheet and drizzle with olive oil and season with salt and pepper. Turn to coat.
Grill the cauliflower, potatoes, and corn until tender and lightly charred all over, about 15 minutes. Remove from the grill and cut the cauliflower and potatoes into bite-size pieces and cut the kernels from the corn cobs.
To serve, place 2 cups of greens in a bowl and lightly drizzle with olive oil and season with salt and pepper. Top with the grilled vegetables, about 1/4 of the chickpeas, and pickled onions, if using. Sprinkle with pepitas and cotija before serving.
This is one of those better-than-it-looks situations, but weeknights aren't always beautiful! I also forgot to add any cilantro to the dish and didn't miss it-- but you could blend it into the sauce or sprinkle it on top at the end.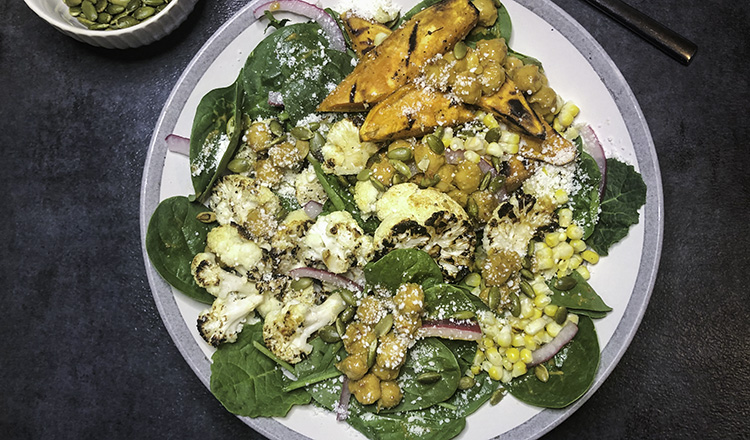 For extra protein, you could add leftover shredded chicken, pulled pork, grilled shrimp, or crispy tofu.
Use grains as an additional base for these bowls for a hearty option.
All of these ingredients would be tasty chopped up and served in burrito or wrap format.