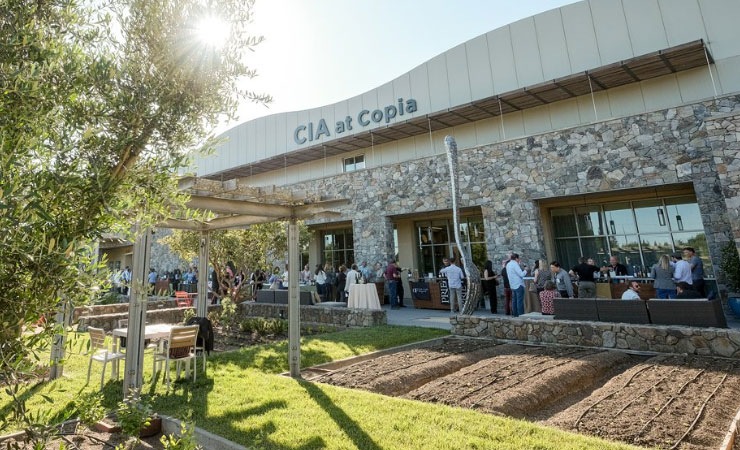 There is no place on earth quite like Napa. It's known as the gateway to California wine country with good reason. And that's why the CIA has created The CIA at Copia, a food and wine lover's paradise right in Napa. Actually, The New York Times called it a "foodie wonderland," which is exactly how we feel when we're there.
Copia is our family-friendly foodie destination. It's indoor and outdoor spaces are inviting and there is always something going on. Here's a peek at some of the happenings you and your family can enjoy when you are in our vicinity!
We're All About Food & Wine!
The Restaurant—A true farm to fork experience, The Restaurant gets ingredients harvested fresh from our neighboring farms and local purveyors. And be sure to order our chef's choice CornuCopia to start your meal and share with friends. It's delish!
Grove—At our outdoor patio, gather round the fire pit with friends to enjoy great food, listen to live music, and play bocce or cornhole. Here on a Monday? Check out our Monday Pop-up dinner series.
Le Petit Chef™: 3D Dining Experience—We brings technology, storytelling, and fabulous flavors together during a one-of-a-kind dining experience. You'll follow in the footsteps of Marco Polo and experience the flavors and spices he discovered along the Silk Road.
K. Laz Wine Collection—Take this rare opportunity to taste and learn about California's most compelling cult-status wines at these popular daily tastings.
Contimo Provisions—Using the highest quality ingredients, Contimo creates delicious sandwiches, salads, and baked goods for breakfast and lunch, as well as on-the-go provisions.
Exhibits and Museum
Chuck Williams Culinary Arts Museum—Dip into culinary history and have lots of fun figuring out what some of the culinary contraptions are that we have in our newly curated museum filled with 4,000 amazing artifacts.
France is a Feast: The Photograph Journey of Paul and Julia Child—This traveling exhibit is presented by the Napa Valley Museum Yountville and will be open at Copia through September! You won't want to miss this intimate portrait of one of our culinary greats!
The Joy of Cooking
We're all about teaching and helping you find your inner chef! From fun, interactive, demonstration-style classes to single- and multi-day hands-on classes in our state-of-the-art kitchens, we have something for everyone who is passionate about food.
Happenings
There is always something going on at Copia! Check out our Sunday Family Fundays, vote for the People's Choice at one of our culinary competitions, taste test new ciders at our annual Ciderfest, or shake your tail feather at a concert in our amphitheater.
For details, visit ciaatcopia.com