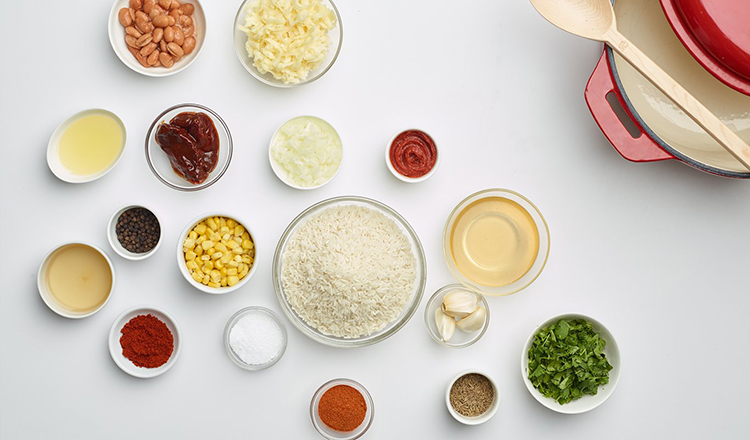 Makes 8 servings
Ingredients
6 ounces pinto beans, canned 1/2 cup onion, diced 1/2 tablespoon garlic, minced 1 tablespoon peanut oil 1 1/2 cups vegetable stock 3/4 cup long grain rice 1 tablespoon tomato paste 1 tablespoon white balsamic vinegar 2 teaspoons chipotle peppers, chopped 1 teaspoon cumin seeds Salt, to taste 1 teaspoon… Ingredients
6 ounces pinto beans, canned
1/2 cup onion, diced
1/2 tablespoon garlic, minced
1 tablespoon peanut oil
1 1/2 cups vegetable stock
3/4 cup long grain rice
1 tablespoon tomato paste
1 tablespoon white balsamic vinegar
2 teaspoons chipotle peppers, chopped
1 teaspoon cumin seeds
Salt, to taste
1 teaspoon freshly ground black pepper, or to taste
1 teaspoon paprika
1/4 teaspoon cayenne pepper
1/2 cup aged cheddar cheese, grated
1/2 cup corn kernels, fresh or frozen, cooked
2 tablespoons cilantro, chopped
Directions
Rinse the beans under cold water and drain. Mash the beans with a fork and reserve. In a medium saucepan, sweat the onions and garlic in the oil until translucent, about 2–3 minutes.
Add the rice and sauté briefly, about 1 minute.
Add the stock, tomato paste, vinegar, chipotle pepper, cumin, pepper, paprika, and cayenne. Bring the stock to a boil and cover the pot tightly, turn the heat to low and cook for approximately 15 minutes until rice is tender.
Fold the mashed beans, cheese, and corn into the rice, and garnish with cilantro.
Copyright © 2021 The Culinary Institute of America