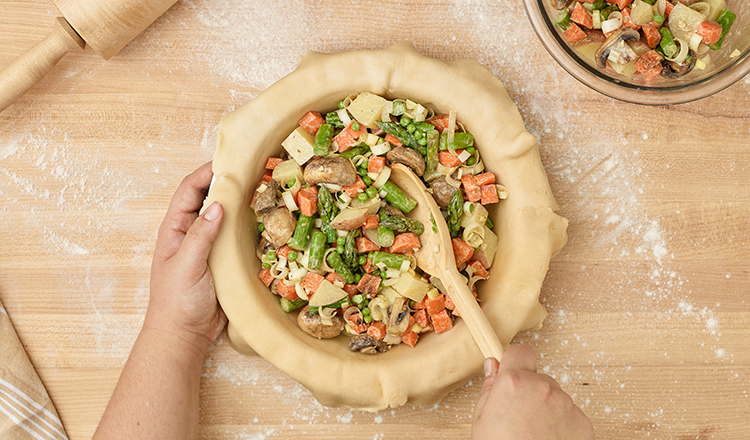 This pot pie is just as cozy and comforting as the classic chicken version, thanks to savory mushrooms, hearty potatoes, and just enough cream! Though we've included some classic veggies, you can substitute just about any of your favorite farmers' market finds, like parsnips, turnips, or corn. Don't forget to add some fresh herbs, if… This pot pie is just as cozy and comforting as the classic chicken version, thanks to savory mushrooms, hearty potatoes, and just enough cream! Though we've included some classic veggies, you can substitute just about any of your favorite farmers' market finds, like parsnips, turnips, or corn. Don't forget to add some fresh herbs, if you like. Makes one 9-inch deep-dish potpie
Ingredients
All-Butter Pie Dough for double crust
8 oz red potatoes, cubed
2 tablespoons canola oil
2 leeks, white parts only, cleaned and thinly sliced
3 carrots, peeled and cut cross-wide into 1/4-in rounds
8 white button mushrooms, halved
2 cloves garlic, minced
2 tablespoons sherry
1/4 cup all-purpose flour
1 3/4 cups vegetable stock
1/4 cup heavy cream
1/2 teaspoon kosher salt
1/2 teaspoon freshly ground black pepper
1 bunch asparagus, cleaned trimmed to 1/4-inch pieces, and blanched
3/4 cup frozen peas
Egg wash, as needed
Directions
Preheat the oven to 425°F.
Place the potatoes in a small saucepan and add enough water to cover them by 1 inch. Cover the pan and bring the water to a boil. Cook the potatoes until tender, 10 to 15 minutes. Remove the pan from the heat and drain off the water.
In a medium sauté pan, heat the oil over medium heat. Add the leeks and carrots and sauté until tender, about 5 minutes. Add the mushrooms and cook until they have released their liquid and softened, 4 to 5 minutes. Add the garlic and cook, stirring, until fragrant, about 30 seconds. Add the sherry to deglaze the pan and scrape up the browned bits from the bottom of the pan. Cook until the sherry has evaporated, about 5 minutes. Add the flour and stir until incorporated. Cook, stirring constantly, for 2 to 3 minutes. Slowly stir in the vegetable stock and the heavy cream. Bring the mixture to a simmer and cook until thickened, about 5 minutes. Remove the pan from the heat and season the mixture with the salt and pepper. Immediately stir in the potatoes, asparagus, and peas.
Line a deep-dish pie plate with rolled pie dough. Pour the filling into a deep-dish pie pan on a baking sheet. Pour the vegetable filling into the pie plate and top with the second pie dough. Crimp the edges as despired and brush with egg wash. Use a paring knife to cut vents in the top of the dough. Immediately transfer to the oven and bake until the crust is golden brown and the filling is bubbling, 30 to 40 minutes.
Remove the potpie from the oven and place it on a cooling rack.
Let the potpie rest for 20 minutes before serving. The filling will continue to thicken as it cools.
Copyright © 2022 The Culinary Institute of America