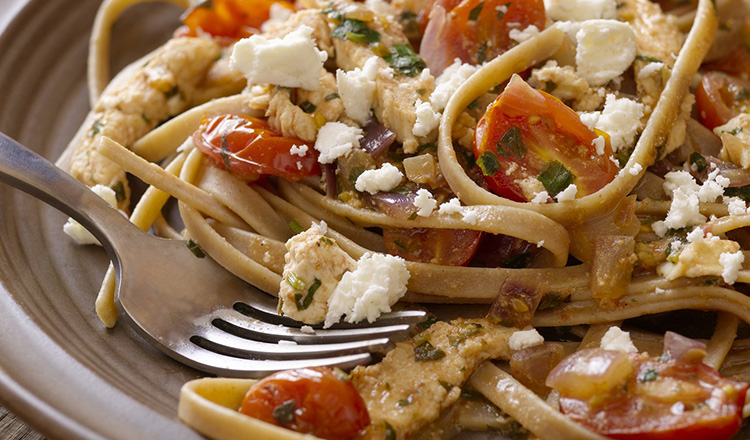 Makes 4 servings Whole wheat pasta is more than just a "healthy" alternative to traditional pasta. It also lends texture and flavor to a simple dish like this one. You can substitute the chicken for a flaky white fish, shrimp, or even stewed white beans, if you like. If you leave out the feta, you… Makes 4 servings
Whole wheat pasta is more than just a "healthy" alternative to traditional pasta. It also lends texture and flavor to a simple dish like this one. You can substitute the chicken for a flaky white fish, shrimp, or even stewed white beans, if you like. If you leave out the feta, you can replace it with another salty, briny ingredient, like slivered olives.
Ingredients
1 teaspoon kosher salt
6 ounces whole wheat fettuccine
1/2 teaspoon freshly ground black pepper
1 tablespoon olive oil
4 ounces boneless, skinless chicken breast, pounded to 1/4-inch thick
1 small red onion, diced
1 teaspoon white wine vinegar
2 pints grape or cherry tomatoes, halved
2 tablespoons chopped basil
2 tablespoons chopped parsley
4 ounces feta, crumbled
Squeeze of fresh lemon juice
Directions
Bring 2 quarts of water to a boil and add 1/2 teaspoon of the salt. Cook the fettuccine until al dente, about 10 minutes. Use a slotted spoon to remove the pasta from the water and set aside. Reserve the cooking water.
Season the chicken with the remaining 1/2 teaspoon salt and the pepper.
Heat the olive oil in a sauté pan over medium high heat. When the pan is very hot, add the chicken and brown on both sides. Set the chicken aside and cut into strips. Add the onion to the pan and cook until soft. Add the vinegar and deglaze the pan. Add the tomatoes.
Once the tomatoes start to release their water and soften, add the basil and parsley. Return the chicken and pasta to the pan. Add the cheese and toss to coat. Add enough of the reserved pasta cooking water to help form a thin sauce. Finish with a squeeze of fresh lemon juice just before serving.
Copyright © 2022 The Culinary Institute of America