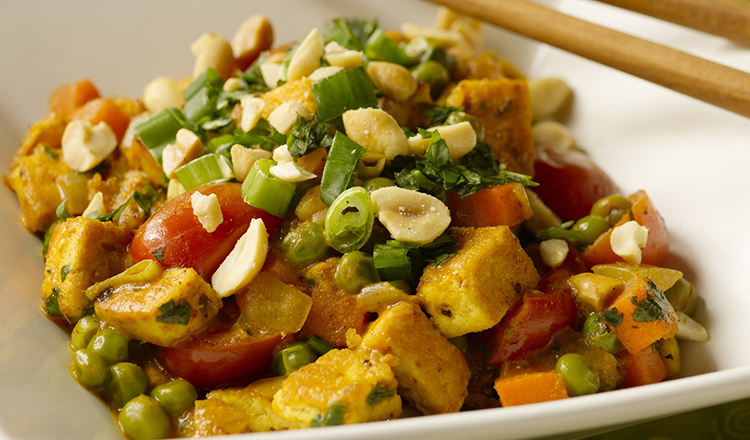 Makes 4 servings
Ingredients
1 1/2 tablespoons peanut oil 1/2 package (8 ounces) extra-firm tofu, drained and pressed to remove moisture and cut into cubes 1 tablespoon fresh lime juice 1 medium carrot, peeled and diced 1/4 cup diced yellow onion 2 garlic cloves, minced Chicken or vegetable broth, as needed for sweating vegetables… Ingredients
1 1/2 tablespoons peanut oil
1/2 package (8 ounces) extra-firm tofu, drained and pressed to remove moisture and cut into cubes
1 tablespoon fresh lime juice
1 medium carrot, peeled and diced
1/4 cup diced yellow onion
2 garlic cloves, minced
Chicken or vegetable broth, as needed for sweating vegetables
1 cup grape tomatoes, halved
1/2 cup frozen green peas, thawed
2 tablespoons red curry paste
1/4 teaspoon ground turmeric
1/4 teaspoon kosher salt
1/4 teaspoon freshly ground black pepper
3/4 cup light coconut milk
1/4 cup chopped cilantro
1/4 cup minced scallions
1/4 cup chopped peanuts
Directions
Heat the peanut oil in a skillet over medium high heat. Add the tofu cubes and cook until they are golden on all sides, 5 to 7 minutes. To help the tofu cubes maintain their shape, turn them with a flat spatula. Remove from the skillet and sprinkle with the lime juice.
Add the carrot and onion to the skillet and sweat until soft, 4 to 5 minutes. Add the garlic and cook until fragrant, about 1 minute more. Splash the vegetables with a small amount of chicken or vegetable broth to prevent them from sticking to the bottom of the skillet and burning. Add the tomatoes and green peas and sweat just until they release a little of their liquid.
Stir in the curry paste, turmeric, salt, and pepper. Add the coconut milk, reduce the heat, and simmer until the sauce has thickened slightly, 6 to 8 minutes.
Stir the tofu cubes back into the pan and heat through. Stir in the cilantro, scallions, and peanuts.
Copyright © 2022 The Culinary Institute of America