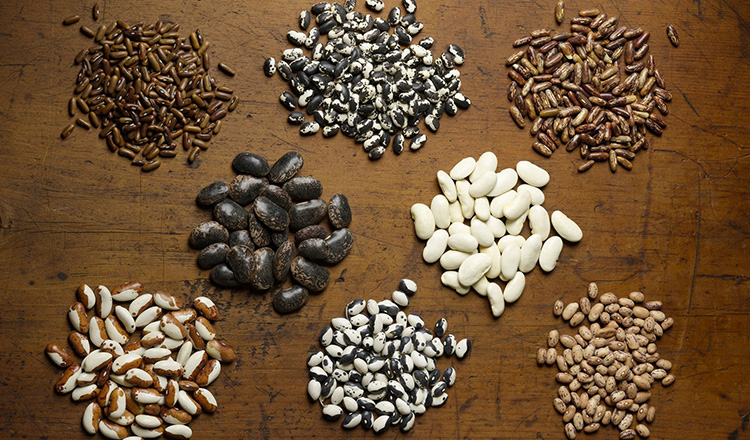 You may, for any number of reasons, be thinking that it's time to introduce more beans into your routine. And we get it! They are vegetarian and vegan sources of protein, they are gluten-free, they are heart-healthy, and inexpensive. What's not to love?
But unless you grew up eating lots of beans, adding them to your diet can be confounding. If that sounds like you, here are some of our best tips for not just cooking and eat, but actually enjoying beans!
Soaking beans is not essential. However, when beans are soaked for a day or two in the refrigerator they cook more evenly and a little faster.
Add salt to the cooking liquid. Don't follow this guideline if you are cooking with a canned broth that is already salted.
Simmer the beans, don't boil beans. This is important to prevent the skins from bursting. If you will be mashing the beans then you don't need to worry about this.
Taste and save the cooking liquid. This broth can be delicious as a soup base even without the beans in it.
Freeze cooked beans. It is just as easy to cook a large amount of beans as a small portion, so think big and cook extra beans that can be frozen for future meals.
Gently rinse canned beans before use.
Try different brands of canned beans since quality can vary greatly.
Gradually increasing the amount of beans you eat will allow your digestive track to adjust so gas will not be a problem.
Try heirloom beans. The variety and quality is inspiring and delicious even for non-bean-lovers.
Below is a list of some of our favorite heirloom beans:
Maxibell: Delicate flavor with refined texture. Try them in salads with fresh herbs and vegetables.
Orca: Mild flavor and hearty texture. Work well in soups and stews with chili, red pepper, and cumin.
Fawn: These beans are members of the rice beans group, so called because of their slim shape. Mix with cooked wild and white rice for a unique side dish.
White Emergo: Also known as sweet white runner beans; they have a creamy texture and are popular in French cuisine.
Scarlet Runner: Big meaty beans that are even better with lots of garlic and wild mushrooms.
Baby Borlotti: These beans are the younger cousins of cranberry beans. They have a sweet, nutty flavor and dense velvety texture.
Calypso: Sometimes called the Yin/ Yang bean, they have a distinct potato flavor.
Snowcap: Another potato-flavored bean that is a little larger than the calypso bean but just as versatile.