One of the most flavorful ways of cooking meat is in curries. In Asia, there are literally thousands of recipes, but the most common styles can be categorized as Thai, Malaysian, or Indian in origin. While it's impossible to pinpoint the exact origin of each, the word "curry," or kari in Tamil, is loosely used to denote any stew or gravy-like dish that has been cooked with spices.
Many curries are built around a spice paste of some form—the heart and soul of a curry. It can be a moist, stiff paste or a loose, wet paste or a mix of dried, hard spices. Thai chefs create wonderful versions with kaeng, a moist paste made by pounding a variety of chiles, lemongrass, galangal, and shallots along with shrimp paste and dried spices such as coriander and cumin seeds. Red curry paste is made predominately from dried red chiles; green curry paste is made from fresh green chiles and so on.
Traditionally, home cooks prepare this spice paste by pounding with a mortar and pestle different proportions of spices to form a palette of spicy, salty, pungent, and earthy flavors from which the final dish can be created. For a Thai curry, the cook may begin by simmering the paste with coconut cream or milk until it becomes bubbly and fragrant. Once the liquid has evaporated and small bubbles of oil have formed, the protein and vegetables can be added along with the cooking liquid, which could be coconut milk or stock or a combination of the two. For the best flavor, curries should always be simmered over medium to medium-low heat and not allowed to boil aggressively. Thai curries are generally brothy, intensely flavorful, and spicy with a thin layer of oil floating on top.
It's best to make the curry paste from scratch, especially if you're able to get the necessary fresh herbs. To make the process faster, use a food processor. If you cannot find the ingredients, a good compromise would be to use a store-bought version but add fresh chiles and herbs to "lift" and refresh the flavors. In countries such as Singapore, Malaysia, and Indonesia, a Malay or Nonya spice paste called rempah forms the base of many curries. Typically wetter than kaeng, it's also made by pounding and grinding dried spices along with fleshy herbs and roots. If you're using a mortar and pestle, it's best to start with the dried spices and the denser ingredients, such as lemongrass and galangal, before adding the more tender ginger and chiles, for example. If you're using a food processor, you can just add all of the ingredients at once.
A dish made with this paste begins with stir-frying the rempah in oil. This process must be done patiently and carefully over medium-low heat to ensure that all the fragrances develop and blend together correctly. Too high a heat will scorch the pan and make the aromatics either too caramelized or bitter or both. On the other hand, too low a heat will result in a curry that is subdued and flat. Once the spice paste is properly cooked, add the meat and other main ingredients, along with the liquid, then stir to loosen the paste from the bottom of the pan. Curries made with rempah are usually thick in consistency.
Because of the wide-reaching influence of the Indian empire and its trade routes in ancient times, Indian curries are probably the most common, with cooks in each country adapting and interpreting recipes according to their preferences and the availability of ingredients. There are many ways of cooking a curry but one common technique is to first sauté whole spices in oil (such as those in the essential garam masala mix—cinnamon, cloves, black pepper, cardamom, cumin, coriander, and red chiles). In southern India, cooks prefer the additional touch of popping and toasting black mustard seeds and legumes with fresh curry leaves and chiles in the oil before adding a similar spice mix. When prepared this way, the curry is intensely flavored and complex, imparting a back-of-mouth type of heat because of the spice infused oil used to build the dish.
Once the aromatic base is ready, other ingredients such as puréed or finely chopped onions—usually in ample amounts— as well as ginger and garlic are added. This mixture simmers until the onions are quite soft and impart a subtle sweetness. Then, according to the recipe, one can add liquid (either water or coconut milk or yogurt), additional ground spices, and lemon, mango powder, or other souring agents to balance the flavors. The sauce is then ready for the meat and vegetables.
---
If reading this made you hungry, try one of these delicious curry recipes!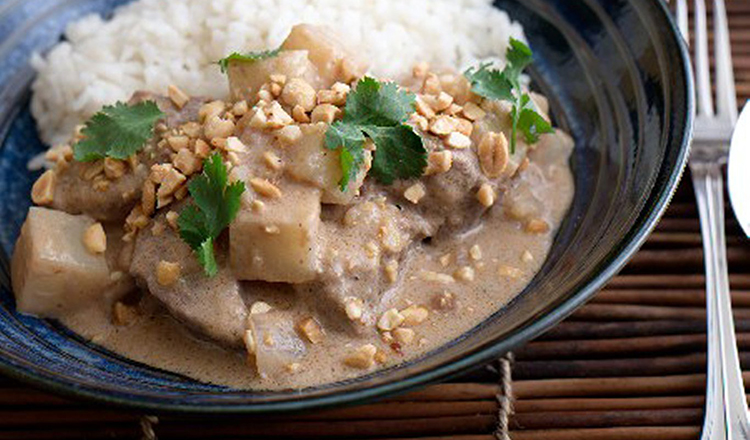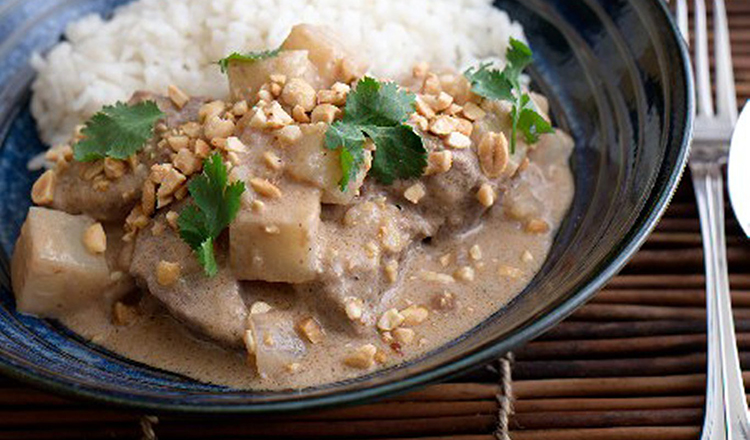 Thai Green Curry with Pork and Vegetables