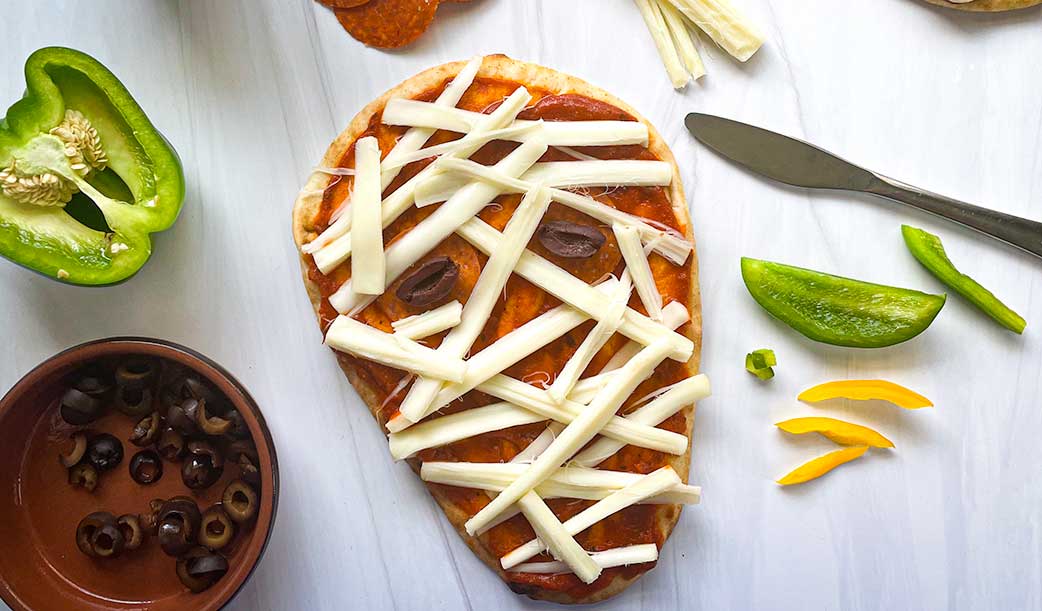 Small foodies may have candy on the brain, but before they start their whirlwind foraging expedition, little ghosts, cowgirls—and hopefully a tiny chef or two!?—need some food-fuel.
Since it is Halloween, dinner needs to be fun and maybe a little spooky! For your sake, it should also be easy. We have you covered.
Nothing screams "Today is a special day!" like a monster-themed build-your-own-pizza extravaganza. Load up on toppings, sauces, and simple prepared pizza crusts (we like using pre-cooked naan from the grocery store for this task, but anything will work), and let your gang of ghouls make their scariest, creepiest, weirdest monster 'za they can imagine.
For sauce: basic marinara (scare-inara!) or pizza sauce is a great start, but colorful sauces like basil pesto, alfredo sauce, or a butternut squash purée may inspire Frankenstein, Dracula, or haunted Jack-o-lantern moments.
For toppings: grab anything your family likes best—since the goal is ultimately dinner, after all. After that, consider a variety of colors, shapes, and textures to help build features. Black olives for hair and eyeballs, pepperoni for creepy monster scales, string cheese (monster-ella!) for mummy wraps, and bell peppers for mouths and horns. Rice can be shaped into impressive monster fangs, and dried seaweed snacks can be cut with scissors to make any shape!
Spread out all your ingredients, plus kid-safe knives, cookie cutters, and paint brushes. Once the pizzas are assembled, all they need is a five minutes in a hot oven (450°F-ish) to melt your cheese and crisp your crust.
Happy Halloween!