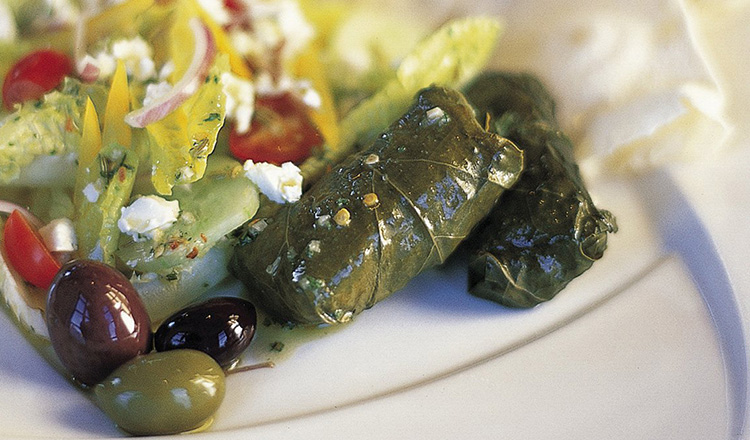 Makes 16
Ingredients
1/2 cup olive oil 1 cup minced onions 1/2 cup minced fennel 2 tablespoons minced garlic 1 cup short-grain rice 1 1/2 cups finely diced tomato Salt, to taste Ground black pepper, to taste 1/4 cup minced scallions, white portion only 1/4 cup minced parsley 1/4 cup chopped dill 1/4 cup… Ingredients
1/2 cup olive oil
1 cup minced onions
1/2 cup minced fennel
2 tablespoons minced garlic
1 cup short-grain rice
1 1/2 cups finely diced tomato
Salt, to taste
Ground black pepper, to taste
1/4 cup minced scallions, white portion only
1/4 cup minced parsley
1/4 cup chopped dill
1/4 cup chopped mint
16 brine-packed grape leaves, rinsed and drained
2 cups thinly sliced potatoes
1 quart Vegetable Broth or water, as needed
1/4 cup lemon juice
Directions
Heat 2 tablespoons of the oil in a sauté pan over medium-high heat. Add the onions, fennel, and garlic and sauté, stirring frequently, until they are fragrant and just starting to become translucent, about 4 minutes.
Add the rice and stir to coat completely with the oil. Continue to sauté, stirring constantly, until the rice develops a toasty aroma, about 2 minutes. Add the tomatoes and season with salt and pepper. Continue to cook until the tomatoes are very hot, another 3 minutes. Remove the pan from the heat and stir in the scallions, parsley, dill, and mint. Season with additional salt and pepper, if needed.
Cool the rice mixture to room temperature (or it can be kept in the refrigerator in a covered container for up to 12 hours, if you want to prepare the rice ahead of time and assemble the grape leaves later.)
Bring a pot of water to a boil. Add the grape leaves and cook until they are softened, about 5 minutes. Drain well.
Arrange the sliced potatoes in a rectangular baking dish and add enough of the broth to barely cover them (this will prevent the potatoes from discoloring as you fill and roll the grape leaves).
Spread each grape leaf out on a work surface. The veins should be facing up and the smooth side of the leaf facing down. Place 1 tablespoon of the rice mixture in the center of the leaf. Fold in the sides and then roll up so that the rice is completely encased in the leaf. Place the filled grape leaves in a baking dish, with the seam facing down so the grape leaves won't unroll. The grape leaves can be close to each other, but should not be touching.
Season the grape leaves with a little salt and pepper. Add the remaining olive oil, the lemon juice, and enough additional broth or water to barely cover the grape leaves. Cover the grape leaves with a clean, heat-proof plate (this will keep them submerged as they cook). Place over medium heat and bring the broth or water to a simmer. Reduce the heat to low and cook until the rice filling is very tender, 30 to 45 minutes.
Remove the grape leaves from the pan, cool to room temperature, and then chill for at least 8 hours in a covered container in the refrigerator. You may wish to add some of the broth to the storage container to keep the grape leaves moistened. Serve the stuffed grape leaves chilled or at room temperature.
Copyright © 2022 The Culinary Institute of America