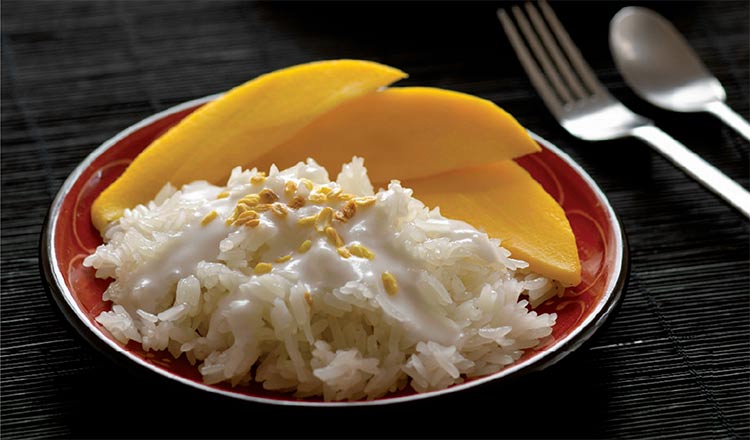 Makes 4 servings
Ingredients
Sticky Rice 2 cups sticky rice, soaked for at least 4 to 6 hours or overnight 1/3 cup coconut milk 1/2 cup sugar 1 1/2 teaspoons salt, or as needed 2 pandanus leaves, tied in a knot Coconut Topping 1 cup coconut milk 1 1/2 tablespoons sugar, or to taste… Ingredients
Sticky Rice
2 cups sticky rice, soaked for at least 4 to 6 hours or overnight
1/3 cup coconut milk
1/2 cup sugar
1 1/2 teaspoons salt, or as needed
2 pandanus leaves, tied in a knot
Coconut Topping
1 cup coconut milk
1 1/2 tablespoons sugar, or to taste
1/4 teaspoon salt
1 1/2 teaspoons rice flour
2 tablespoons mung beans, soaked in hot water for 1 hour
2 mangoes, thinly sliced, or as needed
Directions
For the sticky rice: Drain the soaked rice and place in a steamer lined with cheesecloth. Steam until the grains are soft, 20 to 25 minutes (20 minutes if the rice was soaked overnight).
While the rice is steaming, combine the coconut milk, sugar, salt, and pandanus leaves in a bowl and mix well. Microwave or heat for 2 minutes to dissolve the salt and sugar; strain and set aside.
When the sticky rice is done, transfer from the steamer to a bowl. While the rice is still hot, add the coconut milk mixture. Using a rubber spatula, stir to coat the grains quickly and evenly. Cover with plastic wrap and set aside for 15 minutes to allow the rice to absorb the sauce.
For the coconut topping: Combine the coconut milk, sugar, and salt in a small saucepan. Bring to a boil and reduce the heat. In a bowl, blend the rice flour with 1 tablespoon of water and mix well to dissolve the rice flour. While the coconut sauce is simmering, slowly drizzle in the rice flour slurry and stir constantly. Return to a boil, immediately remove from the heat, and set aside.
Drain and pat dry the mung beans. Toast in a nonstick saucepan over medium heat, stirring constantly, until they are light brown and crispy, 1 to 2 minutes. Set aside.
To serve, place a small amount of sticky rice onto a plate with the mango slices arranged on the side. Pour 1 to 2 tablespoons of the coconut topping over the sticky rice and sprinkle with the toasted mung beans.
Copyright © 2022 The Culinary Institute of America