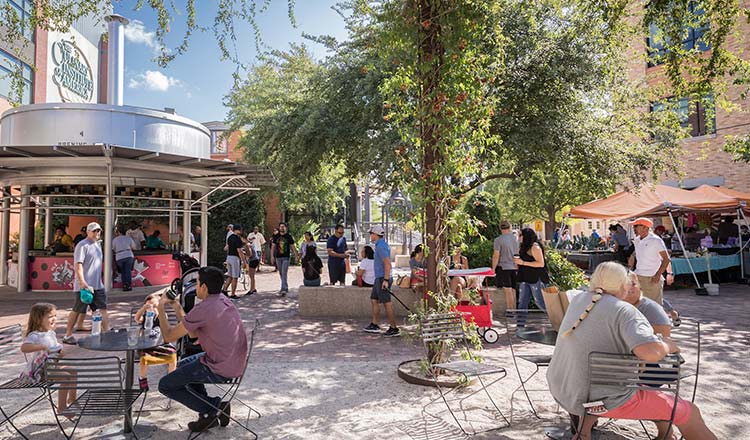 San Antonio is electric with energy emanating from the Pearl district, arguably the city's coolest district to eat, drink, and rest your head. Located north of downtown San Antonio, the district is named for the former Pearl Brewery complex, which now anchors the neighborhood's best shops, restaurants, and hang-out spots.
We may be biased but standing out among the residents of the Pearl is our very own Culinary Institute of America campus. Bustling with students and boasting some pretty extraordinary aromas, there is so much happening on campus, we had to take it outside—to our alfresco taco kitchen!
For students, there are bright and modern teaching kitchens where they will work toward their associate degrees in culinary or baking and pastry arts. Just like the city that surrounds it, this campus is infused with the flavors of Latin cuisine, and students are granted unbeatable access to renowned chefs, guest lecturers, and demonstrations. You may even spot some visiting students from the CIA's New York campus spending a semester in San Antonio as part of the Latin American Cuisines Concentration during their bachelor's degree studies.
Luckily, you don't have to be a student to experience the CIA! If you're a lover of great food and drink, you'll be in good company at our hands-on food enthusiast classes, which cover topics from basic baking techniques and grilling to, of course, Latin American cuisine. You can come hang out with us for an afternoon or up to 5 days, depending on which class you choose.
And frankly, the longer you stay, the more you get to enjoy the city of San Antonio! In addition to Savor, our newly renovated student-operated restaurant, Pearl is home to some of our favorite spots to grab a bite, like Boiler House, Cured, and The Granary. No longer playing second fiddle to Texas' bigger cities, San Antonio is bursting at the seams with new restaurants attracting national attention, including James Beard nominations and spots on Bon Appétit's Top 50 Best New Restaurant List.
And you won't want to miss what is hands-down the best way to spend a warm Texas morning: the Pearl Farmer's Market in the square just beyond the CIA's doors. You'll find that taco kitchen we mentioned alongside the Hill County's freshest produce, artisan cheeses, and an overload of snacks to enjoy while you meander.
Beyond the Pearl, you'll find CIA graduates across the city, as the owners and operators of nearly 20 top-notch restaurants, not to mention our students, who are living and working within an outstanding food community. In fact, UNESCO has named it a Creative City of Gastronomy! We're so lucky to call this vibrant city home.