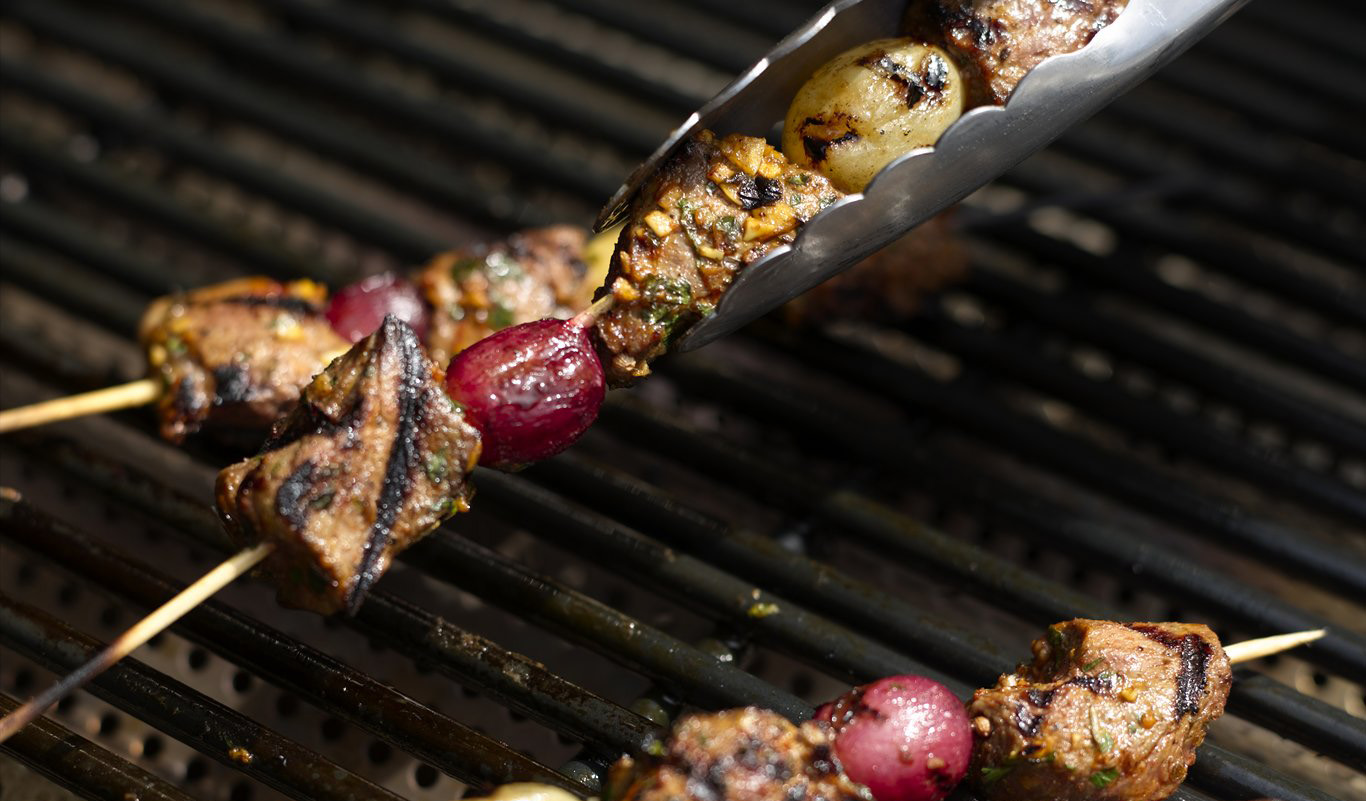 Makes 8 servings Lamb Kebabs
Ingredients
10 cloves garlic, minced 1/4 cup plus 2 tablespoons olive oil, plus more as needed 2 tablespoons fresh lemon juice 1 tablespoon minced flat-leaf parsley 2 tablespoons minced oregano 1 tablespoon ground coriander 2 teaspoons minced fresh ginger 2 teaspoons Spanish-style paprika 2 teaspoons kosher salt 1 teaspoon… Makes 8 servings
Lamb Kebabs
Pickled Grapes
Makes 2 1/2 cups
Ingredients
10 cloves garlic, minced
1/4 cup plus 2 tablespoons olive oil, plus more as needed
2 tablespoons fresh lemon juice
1 tablespoon minced flat-leaf parsley
2 tablespoons minced oregano
1 tablespoon ground coriander
2 teaspoons minced fresh ginger
2 teaspoons Spanish-style paprika
2 teaspoons kosher salt
1 teaspoon freshly ground black pepper
1/2 teaspoon ground turmeric
1/2 teaspoon cayenne pepper
1/4 teaspoon crushed saffron threads
2 pounds boneless leg of lamb, cut into 1-inch cubes
16 bamboo skewers
2 1/2 cups Pickled Grapes (recipe follows)
Directions
In a medium bowl, combine the garlic, oil, lemon juice, parsley, oregano, coriander, ginger, paprika, salt, black pepper, turmeric, cayenne, and saffron. Coat the lamb evenly with the mixture. Cover and marinate in the refrigerator for at least 2 and up to 12 hours.
Remove the lamb from the refrigerator 30 minutes before grilling. Soak the bamboo skewers in cool water for 30 minutes. Drain just before using.
Preheat a gas grill to medium-heat. If you are using a charcoal grill, build a fire and let it burn down until the coals are glowing red with a moderate coating of white ash. Spread the coals in an even bed. Clean the cooking grate.
While the grill is heating, thread 3 pieces of meat and 2 grapes on each skewer. Grill until medium-rare, 2 to 3 minutes on each side. Serve at once.
Ingredients
1 1/2 cups sugar
3/4 cup white wine vinegar
1 cinnamon stick
1/4 teaspoon kosher salt
1 1/4 cups seedless green grapes (about 32 grapes)
1 1/4 cups seedless black grapes (about 32 grapes)
Directions
Combine the sugar, vinegar, cinnamon stick, and salt in a saucepan. Simmer over medium heat until the sugar has completely dissolved, about 5 minutes.
Pour the mixture over the grapes, and allow the grapes to cool to room temperature. Refrigerate overnight, covered. The grapes are ready to use now or they can be stored in the refrigerator for up to 2 weeks.
Copyright © 2022 The Culinary Institute of America