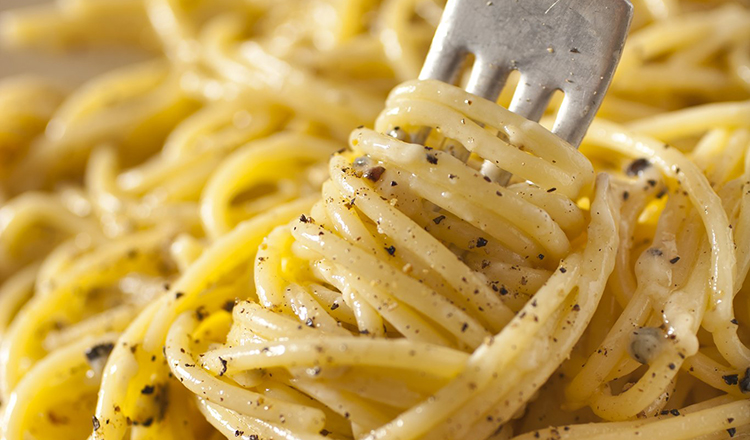 Serves 4 to 6
Ingredients
Kosher salt, as needed 1 lb spaghetti 1 cup grated Pecorino Romano (4 oz) 1/2 cup extra-virgin olive oil 1 tablespoon freshly ground black pepper
Directions
Bring a large pot of salted water to a rolling boil over high heat; covering the pot will help it come… Ingredients
Kosher salt, as needed
1 lb spaghetti
1 cup grated Pecorino Romano (4 oz)
1/2 cup extra-virgin olive oil
1 tablespoon freshly ground black pepper
Directions
Bring a large pot of salted water to a rolling boil over high heat; covering the pot will help it come to a boil more quickly.
Add the spaghetti all at once and stir a few times to separate the pasta. Cook uncovered at a boil until the pasta is just tender to the bite, 10 to 12 minutes. Transfer a few ladlefuls of pasta water from the pot to a bowl or cup to have ready for finishing the sauce. (You may need up to 1/2 cup.)
Drain the spaghetti immediately through a colander. Shake well to remove any water clinging to the pasta. Pour the spaghetti back into the pot. Add the cheese, olive oil, and black pepper. Stir the pasta until the cheese and pepper are evenly distributed. Add about 1/4 cup of the pasta cooking water to the spaghetti to moisten the pasta slightly. It should appear creamy, not oily. If necessary, add a bit more of the pasta water until a light sauce forms.
Serve at once, passing additional cheese on the side.
Copyright © 2022 The Culinary Institute of America